Hull York Medical School Medicine with a Gateway Year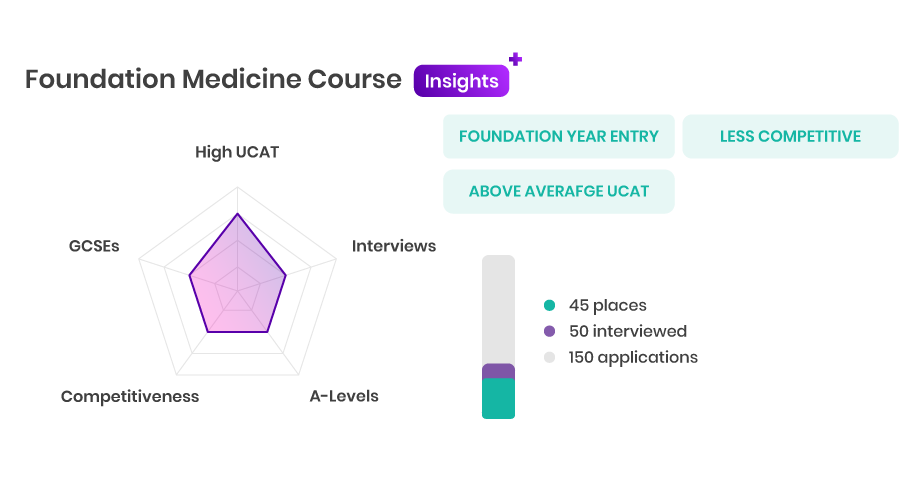 Overview
Joint between the Universities of Hull and York, the Hull York Medical School is one of the UK's most contemporary medical schools, delivering an innovative and rigorous medical education. You will gain clinical experience from the very start of the programme, with a breadth of placements at a variety of locations.
Interview invites are sent based on a range of criteria, which means that provided you meet the minimum entry criteria your application success in being invited to interview is based on scores for other criteria. Candidates are then ranked based on the points they score for the UCAT, UCAT SJT band, Top 8 GCSE results, and contextual data. This makes Hull York a great choice if you have done well in the UCAT and in your GCSE's but don't have top A-level grades, but still reach the minimum entry criteria.

Please note that this program is only open to applicants that meet specific widening participation criteria.
Key Points
Foundation year entry
Less competitive
Above average UCAT
About the university
Compare
Key Information
Website
https://www.hyms.ac.uk/gateway-year
Email
[email protected]
Phone number
01904 321690
Course Information
Teaching style
PBL
Problem-based learning, lead by experienced practising clinicians.
Course length
5-6 years
A100 - 5 years - undergraduate course
A101 - 6 years - undergraduate course with gateway year
BSC
Not offered

Courses offered
2 courses offered
A100 - Standard undergraduate entry - 5 years
A101 - Undergraduate entry with Gateway Year - 6 years
Graduate entry
Not offered
Graduates are welcome to apply to the undergraduate course and will start in year 1 or the standard 5 year course.
Dental graduates are also welcome to apply for the undergraduate course, where successful applicants will start in year 2 of the standard 5 year course.
Foundation or access
Yes
A101 - Medicine with a gateway year is offered by Hull York Medical School, with reduced entry requirements.
University Life
Local area
Hull or York
During the first two years of the programme students are based at either the University of Hull or the University of York campus. Following these two years you will undertake placements across the whole of the region, including; Hull, York, Scarborough, Scunthorpe and Grimsby.
Social life
Interview
Interview style
MMI and tasks
The interview consists of 4 sections, each of which is weighted the same (20 marks available in each section). The sections are: Group exercise (20 minutes)
MMI A and MMI B (each lasting 10 minutes)
Task station (5 minutes)
Scenario station (5 minutes)
Interview dates
December
For 2020 entry interviews will take place during December 2019.
Interview topics
Topics covered across all sections of the interview are:

Ability to work collaboratively
Contribute relevant information in group discussions
Effectively and clearly articulate your own thoughts in a group setting
Insight into a medical career
Understanding the values in the NHS Constitution
Motivation for a medical career
Awareness and understanding of current medical issues
Communication skills
Understanding of MBBS course at Hull York and motivation to study there
Personal qualities needed to be a doctor
Ability to think critically

Admissions Tests
UCAT
UCAT scores are assigned points as part of the selection procedure. These along with other aspects of your application, such as academic performance, personal statement and references are also used to determine which applicants are invited to interview.
SJT band 4 applicants are automatically rejected.
BMAT
N/A
GAMSAT
N/A
Academic Requirements
GSCE
GCSE's not used past minimum requirements
Subjects required: English Language and Mathematics required
Grades required: 5 GCSEs grade A*-C (9-4)
Resits of GCSEs are accepted
A-level
BBC
Subjects required: Biology and Chemistry
Grades required: BBC with BB in required subjects
General Studies, Applied Science, Citizenship and Critical thinking are not accepted. Maths and Further Maths, or Biology and Human Biology are not considered as separate subjects, as three distinct A-level subjects are required.
Additional information:
EPQ (Extended Project Qualification:
Hull York Medical School recognises the value of an EPQ, it will not be included as a condition of your entry, however, it may be taken into consideration when receiving your results.
Retake policy
unknown

Scottish highers
ABBBB
Subjects required: none stated
Grades required: ABBBB
Only acceptable in conjunction with Scottish Advanced Highers.
Scottish advanced
BC
Subjects required: Biology and Chemistry
Grades required: BC in required subjects
Acceptable in conjunction with Scottish Highers.
IB
29 points
Subjects required: Biology and Chemistry
Grades required: 29 points overall with 14 at higher level. Required subjects must have a minimum of grade 5 achieved.
Bachelor's Degree (Gradutes Only)
N/A
Statistics
Applications in 19/20
150
Total number of home applicants: 150
Interviews in 19/20
50
Total number of applicants interviewed: 50
Offers in 19/20
45
Total number of offers: 45
Success rate in 19/20
Application success rate:
Offers per applicant: 1 in 3.33
Interview success rate:
Offers per interview: 1 in 1.11
Compare