Lincoln Medical School BMBS Medicine with a Foundation Year University of Nottingham Lincoln Pathway (A18L)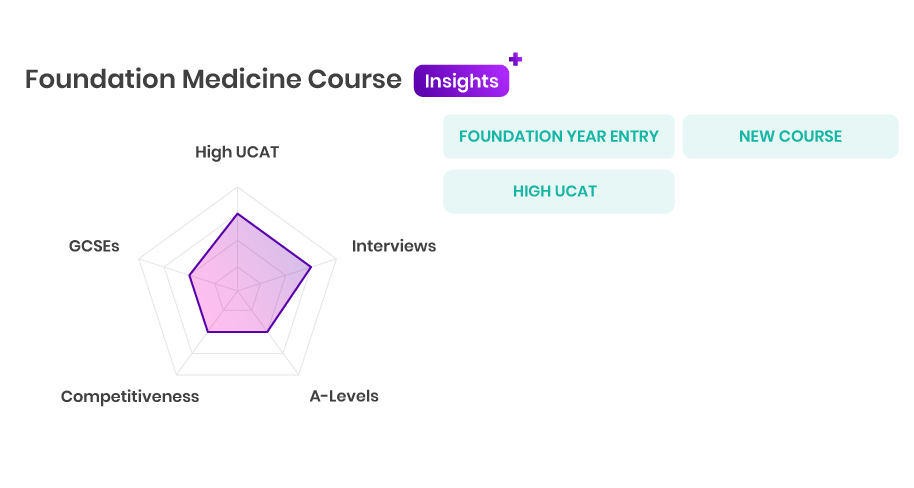 Overview
Studying medicine at Lincoln Medical school is a fantastically unique experience being formed from a partnership between the universities of Nottingham and Lincoln, with their first students starting in 2019. The university has a purpose built medical school building due to be completed in 2021 where they will offer you the most state of the art facilities including clinical skills suites, simulation facilities, medical science library and a prosection anatomy suite.
Lincoln use a combination of GCSE scores and UCAT scores to select applicants for interview. Therefore it is essential that you not only meet the typical offer A-levels (or equivalent) but have strong academics from GCSE level and perform well in the UCAT in order gain an interview at Lincoln. As Lincoln do not look at A-levels or equivalent for interview shortlisting they are an ideal university to apply to if you meet the minimum A-level requirements but are not predicted A*s.
Please note that this program is only open to UK applicants that meet specific widening participation criteria.
Key Points
Foundation year entry
New course
High UCAT
About the university
Compare
Key Information
Website
https://www.lincoln.ac.uk/home/medicalschool/
Email
[email protected]
Phone number
+44 (0) 1522 886644
Course Information
Teaching style
Case-based learning
CBL or case-based learning involves teaching with real patient scenarios providing students with great clinical learning opportunities. Students also benefit from starting placement in their first term.
Students will also achieve a BMedSci in their third year and undertake supervised research projects in their chosen areas without needing to take an intercalated BSc year.
Course length
5-6 years
A10L - 5 years MBBS standard course
A18L - 6 years MBBS including Foundation Year
BSC
No

Courses offered
2
A10L - 5 years MBBS standard course
A18L - 6 years MBBS including Foundation Year
Graduate entry
No
Foundation or access
Yes
A18L - 6 years MBBS including Foundation Year
University Life
Local area
Lincoln
Taught on campus at Lincoln's Brayford Pool campus, students benefit from not just the city environment of Lincoln, but also the wonderful rural areas of Lincolnshire.
Social life
Lincoln university offers a broad range of courses meaning it has a diverse student population, offering many different sports and social clubs for you to get involved with. In addition to this there is a great night life.
Students also benefit from the rural aspects of being based in Lincolnshire which is great for those who like to get out of the city.
Interview
Interview style
MMI
The MMI style interview is the same as the Nottingham medicine interview. There are 8 stations in total, each station lasts for 5 minutes. Students are provided with 1 minute between stations to exit the station, and read the instructions outside the next station.
Interview dates
December - March
Interviews are anticipated to take place between December and March.
Interview topics
The interview will asses your personal qualities that the medical school believe are essential fro practicing medicine:

Good communication and listening skills
Understanding of professional issues such as teamwork and respecting allied healthcare professionals

Admissions Tests
UCAT
There is no UCAT cut-off score used to shortlist applicants.
Applicants scoring in Band 4 of the SJT section will not be considered.
Scores are awarded points per section of the UCAT as shown below:
Cognitive scores:
801-900 = 9 points
701-800 = 8 points
601-700 = 7 points
501-600 = 6 points
401-500 = 5 points
301-400 = 4 points
SJT scores:
Band 1 = 4 points
Band 2 = 2 points
Band 3 = 1 point
Band 4 = 0 (students achieving SJT band 4 will not be considered for entry onto the MBBS course).
Total points are added to total points from GCSE grades achieved to rank students for invites to interview.
BMAT
N/A
GAMSAT
N/A
Academic Requirements
GSCE
GCSEs used in conjunction with UCAT score to invite candidates to interview.
Subjects: Biology, Chemsitry, Physics (Double award science is also accepted), English language and Maths.
Applied science, short course GCSEs or functional skills for English and Maths are not accepted.
Grades: 6 GCSEs at grade B(6) to include required subjects.
Points for Foundation Year entry:
Grade 8 or 9 (A*) = 3 points
Grade 7 (A) = 2 point
Grade 6 (B) = 1 point
Total points are calculated using an applicant's highest scoring 6 GCSEs and must include compulsory subjects as listed above. (A maximum of 18 points are awarded for GCSEs).
A-level
BBC typical offer
Subjects: Biology and Chemistry (Human biology accepted in place of Biology)
Excluding general studies, global perspective, citizenship studies and critical thinking.
Grades: Foundation year entry typical offer: BBC with grade B achieved in required subjects.
Retake policy
No
Lincoln do not accept resits, however please do contact their admissions department if you have extenuating circumstances prior to applying to discuss your application.
Scottish highers
N/A

Scottish advanced
N/A

IB
28 points
Subjects: Biology and Chemistry taken at Higher Level
Grades: 28 points with 5,5,5 at Higher level
Bachelor's Degree (Gradutes Only)
N/A

Statistics
Applications in 19/20
N/A
Interviews in 19/20
N/A
Offers in 19/20
N/A
Success rate in 19/20
N/A
Compare