University of Nottingham BMedSci and BMBS Medicine with a Foundation Year (A108) 6 years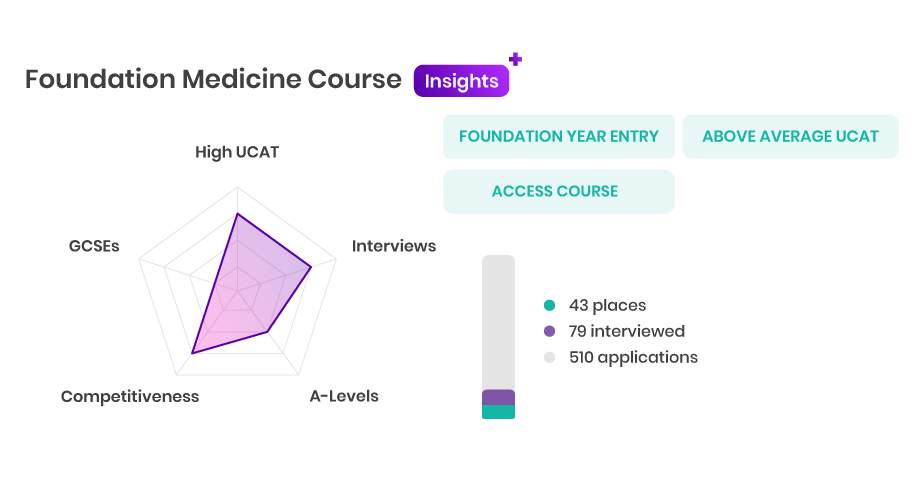 Overview
The University of Nottingham Medical School was opened in 1970 as part of the Queen's Medical Centre and was the first to be established in the UK in the 20th century. As a student at the Medical School you benefit from the fantastic facilities that this enables you access to. Further to you will have placements at Nottingham City Hospital, Royal Derby Hospital, and other hospitals within the region.
At the University of Nottingham they use your academic ability, from both achieved and predicted grades, with your UCAT score to rank students using a points system to invite applicants to interview. Therefore, it is important that you achieve highly in GCSE as well as UCAT.
Please note that this program is only open to UK applicants that meet specific widening participation criteria.
Key Points
Foundation year entry
Above average UCAT
Access course
About the university
Compare
Key Information
Website
https://www.nottingham.ac.uk/ugstudy/course/Medicine-with-a-Foundation-Year-BMedSci+and+BMBS
Email
[email protected]
Phone number
+44 (0)115 951 5151
Course Information
Teaching style
Integrated/Traditional
The first few years focus on biomedical science themes which are clinical case-based and often involve bringing patients into teaching session. There isn't specifically clinical exposure in the first few years which makes this more of a traditional course, but the integration of the patient centered learning makes this course have more of an integrated approach.
The final two years of the course are the clinical phase where you will be based in Nottinghamshire and Derbyshire for your clinical placements.
Course length
4 - 6 years
A100/10L - Undergraduate - 5 years
A108/18L - Undergraduate - 6 years (widening access courses)
A101 - Graduate entry - 4 years
BSC
Not offered
On a few occasions students have been allowed to study a PhD or Master's Degree between the BMedSci degree and BMBS degree (after year 3).
Courses offered
5 courses offered
A100 - Undergraduate entry - Nottingham/Derby - 5years
A10L - Undergraduate entry - Lincoln - 5 years
A108 - Undergraduate entry - Nottingham/Derby - 6years
A18L - Undergraduate entry - Lincoln - 6 years
A101 - Graduate entry - 4 years
Graduate entry
Yes
A101 Graduate entry - 4 years
Foundation or access
Yes
A108/A18L - undergraduate entry with widening access - 6 years
University Life
Local area
Nottingham/Derby/Lincolnl

Social life
Interview
Interview style
MMI
There are 8 stations in total. Each station lasts for 5 minutes, and students are provided with 1 minute between stations to exit the station, and read the instructions outside the next station.
At the first station all applicants will be read the same "ice-breaker" question and given 2 minutes to answer. This is not scored.
6 of the 8 stations will involve answer questions based on instruction or scenarios provided.
2 of the 8 stations will involve role play.
Interview dates
December - March
Interviews take place between December and March, with offers being issued in February and March.
Interview topics
The interview is designed to assess the personal qualities that Nottingham consider essential to practice medicine. These include:

Communication and listening skills
Understanding of the profession and issue you can face
Teamwork and leadership
professionalism

Admissions Tests
UCAT
Cut off Score: not used
Average UCAT Score: unknown
Weighting: 33% - All sections of the UCAT are weighted equally and added to the points awarded for GCSE grades. A-levels attained or predicted are not awarded points. Students are then ranked and invited to interview based on this overall score.
The UCAT results are awarded points in the following way. Each section of the UCAT is awarded points based on the score obtained:
801-900 = 9 points
701-800 = 8 points
601-700 = 7 points
501-600 = 6 points
401-500 = 5 points
301-400 = 4 points
SJT bandings are also awarded points as follows:
Band 1 = 4 points
Band 2 = 2 points
Band 3 = 1 point
Band 4 = Applicants are not considered further
BMAT
N/A

GAMSAT
N/A

Academic Requirements
GSCE
GCSE's not used past minimum requirement
Grades required: 5 GCSEs at grade 6/B including required subjects
Subjects required: Biology, Chemistry and Physics as either individual subjects, triple science or double science, English Literature and Maths.
A-level
BBC
Subjects required: Biology/Human Biology and Chemistry.
Grades required: BBC with B achieved in both required subjects.
Citizenship Studies, Critical Thinking, General Studies and Global Perspectives and not accepted.
Retake policy
Yes
Applicants will be considered who are re-sitting up to two A-levels having attained at least ABB with at least one A grade in either Biology or Chemistry. Students who are applying whilst resitting A-levels must achieve AAA minimum at a-level.
Scottish highers
N/A
Scottish advanced
N/A
IB
28 points
Subjects required: Biology and Chemistry at Higher Level
Grades required: 28 points with 5, 5, 5 at Higher Level including required subjects
Bachelor's Degree (Gradutes Only)
Statistics
Applications in 19/20
510
Total number of home applicants: 510
Interviews in 19/20
79
Total number of applicants interviewed: 79
Offers in 19/20
43
Total number of offers: 43
Success rate in 19/20
Application success rate:
Offers per applicant: 1 in 11.8
Interview success rate:
Offers per interview: 1 in 1.8
Compare