The following is part of a Home Office study of the effects of installing CCTV (surveillance) cameras in 14 target areas with the object of reducing crime. Each target area was compared with a surrounding 'buffer' area, and with the entire police division.
The data shown below is for one of the target areas described as City Outskirts. The City Outskirts system comprised 47 pan, tilt and zoom (PTZ) cameras, which provided 68% coverage of the target area. This included a residential area, an arboretum (tree park), a hospital and a light industrial estate.
Fig. 1: City Outskirts – comparison of crime trends in the target, buffer and division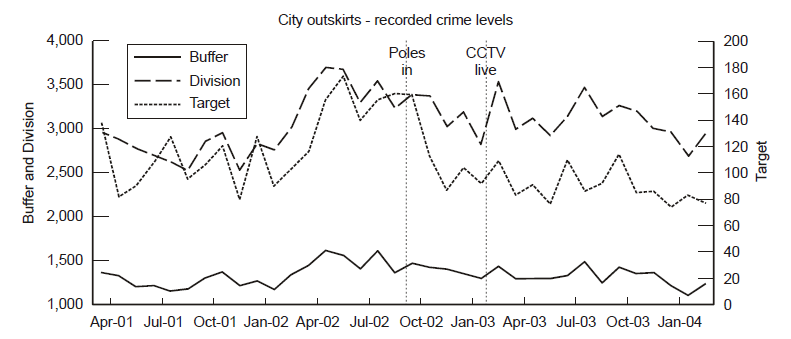 Table 1: Change in annual crime rates in the year following installation of CCTV cameras.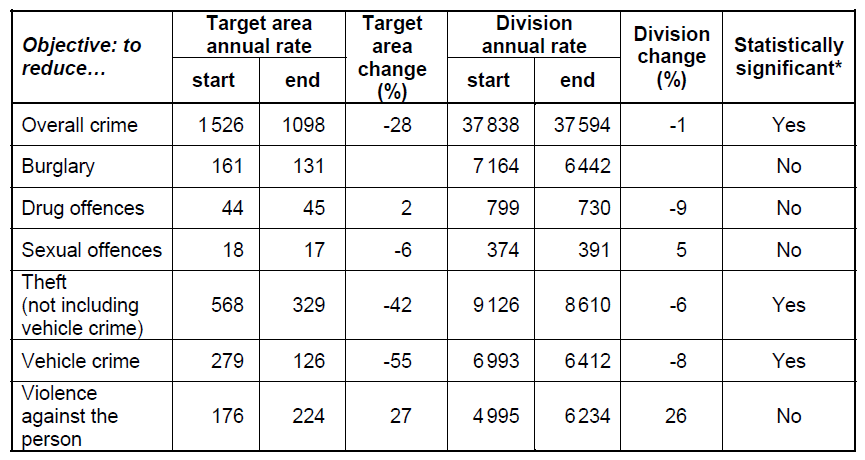 * The 'Statistically significant' column indicates whether the observed difference between the Target area change and the Division change is greater than we might expect by chance variations in crime rates in the absence of any real effect.
The study established that: 'Following the installation of CCTV, overall crime in the target area showed a substantial fall (28%)… relative to the division as a whole (1%).' However, it also noted there were a number of 'confounding factors', meaning factors which cast some doubt on the significance of the data for determining whether the change was largely attributable to CCTV. 
1. The new CCTV system was supported by improvements in street and precinct lighting in November 2002.
2. There was an anti-burglary initiative in the target area during the period of the study.
3. During the peak in crime levels, changes in parking regulations reduced the number of cars parked in the target area.