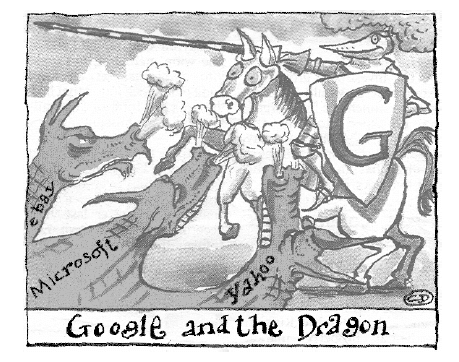 Internet companies are discovering, as billions of people have before them, that while growing up brings problems, maturity brings more.
For e-Bay, Google, Yahoo! and Microsoft, the internet's commercial potential is proving bigger than even most early dreamers imagined. To keep expanding at sensational rates, however, players are encroaching on each other's territory. Competition, which was once sharks against minnows, is becoming a battle of the giants. Corporate manoeuvring is reaching soap opera intensity.
Google, now the dominant online search engine, is making the pace. It snatched a long – term link with AOL Time Warner from under the nose of Microsoft. In the first quarter of 2006 it boosted revenue by 80% to more than $2 billion (£1.2 billion). That represents a lot of advertising, the common revenue all are chasing.
Yahoo! and Microsoft fret at losing market share. E-Bay, the auction and trading site, fears that Google is pushing its own new consumer trading facility and also threatening e-Bay's PayPal online payments system with a rival system.
The three, who recently looked down on Google, wonder if they can forge alliances to combat it. Microsoft does not want anyone repeating on the internet what it achieved in computer systems. The jockeying offers rich entertainment and opportunities for consumers, so long as the players do not gang up against them.
1. Google struck a corporate link which might otherwise have benefited Microsoft.
2. Google's accelerating revenue indicates that it is winning a large share of the advertising market.
3. The internet's potential is growing faster than even the optimists would have predicted.