Cruelty to animals is a criminal offence in the UK. Investigations by the Royal Society for the Prevention of Cruelty to Animals (RSPCA) lead to many offenders coming before the courts under the Animal Welfare Act, 2006. The success rate for prosecutions is high. Punishments include fines, community service, disqualification from keeping animals and prison.
The RSPCA Prosecutions Department published the following figures in its 2013 Report:
Animal cruelty offences and prosecutions nationally (England and Wales)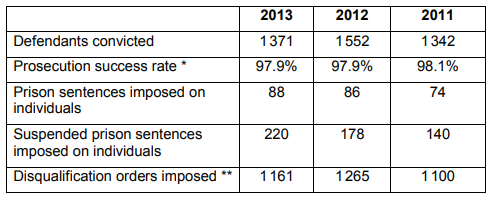 *Total defendants convicted as a percentage of defendants whose cases were tried in court, but excluding cases where the charges were dropped by the RSPCA.
**A disqualification order can be imposed as a penalty in its own right, or it can be additional to any other penalty imposed.
ANIMAL CRUELTY WORST IN THE NORTH (The Times newspaper)
There were more cases of animal cruelty in the north of England in 2013 than anywhere else in England and Wales, according to the RSPCA figures. The charity's 2013 annual prosecutions report revealed that 126 people were convicted for animal cruelty offences in one northern county alone (West Yorkshire).
Across England and Wales as a whole, the number of people convicted fell 11.7%, from 1552 in 2012 to 1371 in 2013, but in the north of England the number rose 6.6%, to 566 in 2013 compared with 531 the previous year.
Mike Hogg, the RSPCA's regional manager, said: "The figures are usually the highest in the north of England, and it's impossible to say for certain why that is." In the north, the RSPCA investigated 1763 more complaints in 2013 than in 2012. Last year it rescued a total of more than 17500 dogs and re-homed 55323 animals.
Reader's comment
It is quite wrong to infer from the RSPCA's findings that northerners are more often cruel to animals than southerners, as your article implies. The fact that there were more complaints made to the RSPCA in the north, and therefore more convictions, could simply show that northerners are more concerned about animals than people living further south.
Based on the RSPCA figures, which of the following inferences is/are fully supported?
1 The highest increase for any region in England and Wales in animal welfare convictions between 2012 and 2013 was in West Yorkshire.
2 The increase in convictions for animal cruelty offences in West Yorkshire was at least 6.6% higher in 2013 than in 2012.
3 In 2013, two fifths of all convictions for animal cruelty offences in England and Wales occurred in the north of England.