The Ruritanian Institute for Economic Studies has totalled up the effects of the Ruritanian Finance Minister's six budgets prior to April 2003. Its calculations suggest that tax and benefit measures introduced by the Finance Minister have resulted in the redistribution of income from the better off to less well off. A lone parent, for example, is on average $24 better off in today's money as a result of the Finance Minister's measures – an 11% gain.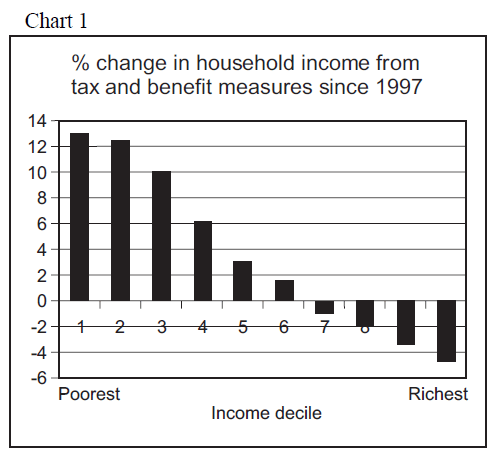 Chart 2 shows trends in the 'Fair-E coefficient' since 1982.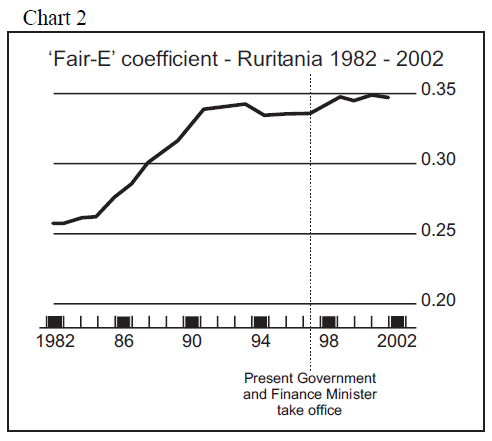 The Fair-E coefficient is a number between zero and one that measures the degree of inequality in the distribution of income in a given society. The coefficient would register zero inequality for a society in which each member received exactly the same income and it would register a coefficient of 1.0 if one member got all the income and the rest got nothing. In practice, coefficient values range from around 0.2 for, e.g., the Slovak and Czech republics and Poland, to around 0.6 for places like Mexico, Guatemala, Honduras and Panama where powerful elites dominate the economy. The coefficient is particularly useful to show trends. It reveals the change towards greater equality in Cuba from 1953 to 1986 (0.55 to 0.22) and the growth of inequality in the USA in the last three decades when the Fair-E went from 0.35 in the 1970s to 0.40 in the 1990s (and still rising).
Assuming that the information and coefficient above are valid:
1. Many of the new benefits are means-tested and complicated, with the result that $4.5 billion-worth are going unclaimed.
2. According to the Ruritanian Ministry of Finance, the number of people paying top-rate income tax rose from 2.1 million to 3.2 million.
3. Since 1996-97 there has been a surge in the number of high earners.