All proteins are composed entirely of amino acids. Determining the amino acid mixture that is most desirable in a protein food is an issue of debate. Part of the difficulty in determining our need for individual amino acids involves the interconversion of amino acids that is constantly taking place in our body. Researchers simplify amino acid recommendations by dividing the twenty amino acids into three basic categories: dispensable, indispensable, and conditionally indispensable. The five dispensable amino acids are those that our bodies are able to make under all circumstances; the nine indispensable amino acids can never be made by our body and must be consumed through diet; the six conditionally indispensable amino acids can be made by our body under many circumstances but, under other circumstances, cannot be made in a sufficiently reliable way to meet our needs.
Our bodies can take some amino acids and convert them into others, for example phenylalanine into tyrosine and methionine into cysteine. However, these conversions rely on the presence of other molecules, and the ability of our bodies to create and transform amino acids can (as with the examples cited) change at different stages of life and in different states of health.
The protein content of human breast milk falls from 2.5% immediately after giving birth to 1% eight weeks after birth, but the amino acid mix of the protein content remains the same and has always been regarded as the ideal for infants. For older humans, however, protein quality is provided through a variety of foods, which makes it more difficult to determine the most desirable mixture of amino acids. One proposal for a desirable mixture of amino acids for adults is the mixture found in a hen's egg, based on a recommended daily protein intake of 0.8 g per kilogram of body weight.
Table 1 shows the number of milligrams of each amino acid per gram of protein consumed for human milk and a hen's egg.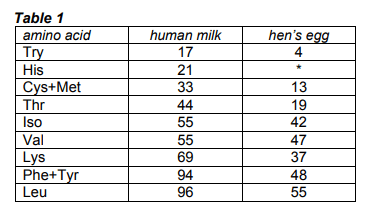 An alternative proposal, presented in Table 2, recommends levels for daily amino acid intake based upon a person's age, sex and body weight (in mg / kg of body weight per day).

* not established
Abbreviations: His – histidine, Iso – isoleucine, Leu – leucine, Lys – lysine, Cys+Met – total of cysteine and methionine, Phe+Tyr – total of phenylalanine and tyrosine, Thr – threonine,
Try – Tryptophan, Val – valine.