>
X
Loading...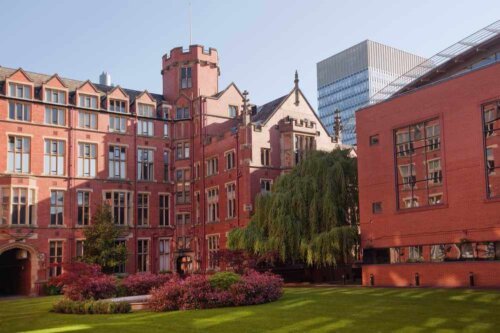 University of Sheffield Medicine Interview Questions
Note: This interview Q&A is based on pre-COVID in-person interviews (from 2019 and before). All university interviews changed in 2020-2021 to an online format due to the COVID-19 pandemic. This article has been updated in November 2021 with the latest information, and we will continue to regularly update it!
In 2019/2020, Sheffield Medical School interviewed 1300 candidates and gave out 660 offers, meaning only 1 in 2 people interviewed received an offer. For the 2022 entry, they plan to interview anywhere from 1100 to 1300 candidates, of which approximately 8% will be international students.
For more statistics and general information about Sheffield Medical School, click here: Sheffield Medical School
The University of Sheffield Medicine interview is typically an 8 station MMI, with each station lasting 8 minutes. However, they are changing both, mode of delivery as well as format of the interview in lieu of the pandemic for 2021/22. In this guide we provide an expert insight into past Sheffield interview questions, the Sheffield Medicine interview day and tips for converting your Sheffield Medicine Interview into an offer!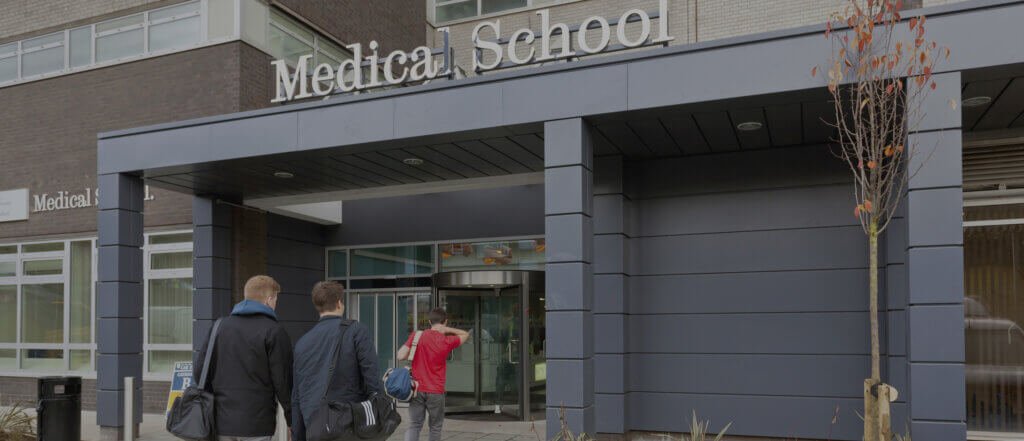 Download Free Medicine Interview Notes
2021/2022 entry Sheffield MMI in a Nutshell
What is the Sheffield Medicine interview style?
The typical Sheffield interview is in an MMI format, composed of 8 x 8-minute stations, each scored out of 5. For 2021-22, this is being altered to a virtual panel-style interview that will be conducted via a platform called Blackboard Collaborate. The interview will last approximately 20-25 minutes and the panel will be two staff members and potentially an additional medical student.
Prior to your interview, you will need to sign in 15 minutes before your allocated start time. Once it's time to start your interview you'll be given a link to access your interview room where your photo ID will be checked. After confirming that you are alone and able to hear the participants in the room, the session will start to be recorded and the interview will begin. Once the interview is over, this will be confirmed by the interviewers and you will be asked to logout of Blackboard by closing your browser window.
7 overarching themes will be assessed in the panel interview, with questions being sent to invited candidates prior to the interview day. Your ability to communicate will also be assessed.
Applicants' responses will be scored on a scale of 0 to 5, with 5 being the highest mark one can score, so for the interview, the maximum score is 40/40. This is used in conjunction with the candidate's UCAT SJT score, which will also be marked from 0-5 based on their banding. This lends a total score out of 45.
Applicants' total interview scores are then ranked in ascending order when deciding which interviewed candidates will receive an offer.
For more information about the interview structure, have a look at this page: Medicine Admissions
When are the Sheffield Medicine Interviews held?
Sheffield Medicine interviews will take place between November 2021 and February 2022.
What are the common topics covered at Sheffield?
Questions will be sent out alongside interview invites to successful candidates. They will typically be based around the following areas:
Communication skills
Depth and breadth of interests (including achievements) in specific fields
Knowledge of the Sheffield course
Medical work experience/EPQ
Motivation for medicine
Understanding the challenges and roles of a doctor
Values and attitudes
Extra-curricular interests
How many people were interviewed in 2020/21 at Sheffield?
This statistic has not yet been released but in 2019/20, Sheffield Medical School interviewed 1300 students for 660 places, lending an offer rate of around 50%.
How many interviewed applicants received an offer from Sheffield?
The latest statistics for 2020-21 have yet to be released regarding the interviews but in 2021, Sheffield received over 2700 applicants for only 306 places. In 2019/20, 660 of the 1300 students interviewed received a Sheffield Medicine Offer. This means 1 in 2 students received a Sheffield Offer after the interview.
To learn more about the Sheffield Medicine course in general, have a look at their official page: Sheffield Medicine
At Medic Mind we've helped many students secure offers from Sheffield and other medical schools. If you're applying to Sheffield, we can do a high quality 1-1 mock with you with a Sheffield tutor and realistic stations uniquely for Sheffield.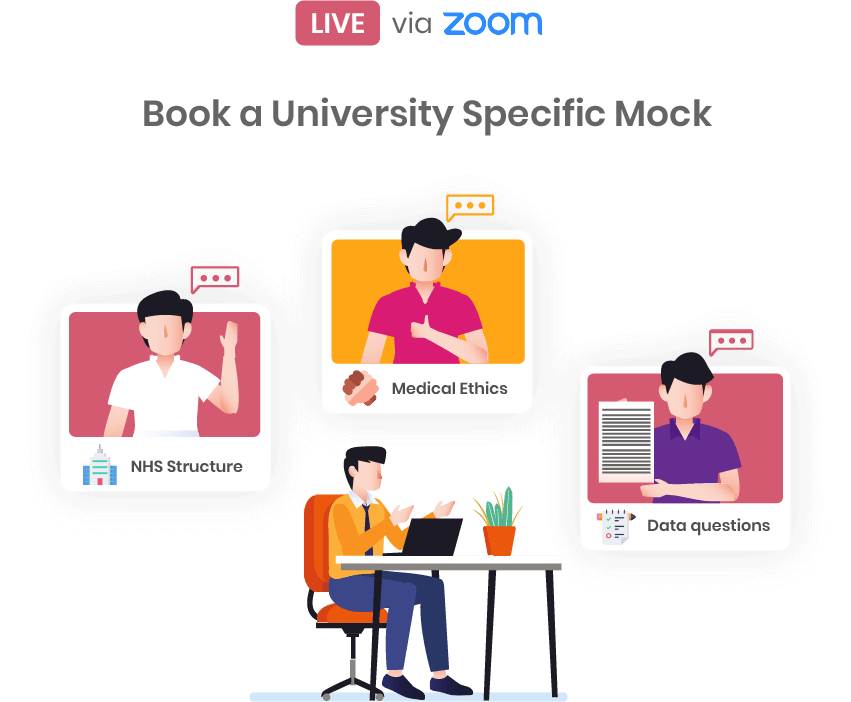 List of Recent Sheffield MMI Stations
Theme
Sheffield Example Questions
Motivation for Medicine
Reasoning behind pursuing Medicine as a career
Reasoning behind applying to Sheffield specifically
Work Experience
Experiences that prompted further research into a medical career
Strengths and weaknesses of a doctor
Communication & Role-Play
Communicative management of a situation
Prioritisation
Personality & Skills
Resilience / Perseverance
Coping with stress
Maintaining interpersonal and professional relationships
NHS Hot Topics
Values Based Recruitment
Organ donation schemes
Healthcare expenditure
Medical Ethics
Confidentiality
Use of social media in Medicine
Personal Statement
Not very common in Sheffield interviews
Data Interpretation
Sorting through data sets
If you wish to practice Sheffield Medicine Interview mocks, here are some sample questions. Remember, Sheffield normally gives out the questions before the interviews, which is quite unusual for a medical school!
Why do you want to study medicine at Sheffield, specifically?
What would you do if you had no offers to study Medicine?
Tell me about a time when you have made a positive impact in someone's life?
Why is consent important in healthcare?
How do you cope in a new environment?
Should doctors use social media?
Why is treating a patient with respect and dignity important?
Scenario involving an actor, who is a patient at your local GP surgery. You must speak to them to find out about their illness, and how it is managed?
To prepare for your Sheffield MMI interview, may wish to check out our guide to approaching MMI role plays
Insider Guide: Sheffield Medicine Interview Day
How did the Sheffield Medicine Interview day work?
Sheffield will be running a panel-style interview virtually for the 2021-22 cycle. Questions will be sent out beforehand, alongside the interview invite to successful candidates.
The panel interview assessed 8 key components that Sheffield believes are required for professional care provision. Interviewers are varied and can include medical educationalists, biomedical scientists, clinical practitioners at any level, nurses, medical students, patients from their 'Patients as Educators programme' and lay people. This echoes a holistic and approachable interview format that will assess candidates' abilities to communicate and build rapport with a multitude of people.
There is no available information as to how long the interview is set to last but a typical panel interview should not last more than 45 minutes. This information is likely to be communicated to invited candidates closer to their interview date.
Can students choose their own interview slot?
Applicants who are invited to interview will receive their email invite on the same day and slots are therefore available on a first-come, first-served basis. This means that students are encouraged to book their interview date as soon as they receive their invite. The Medical School will not offer interviews outside of the available dates and students who are unable to attend will not receive an offer. Therefore, while you can choose your own slot, general flexibility and availability should be prioritized during the Sheffield interview period.
Does the Sheffield Interview require any pre-reading?
Sheffield Medical School encourages all invited interviewees to read the NHS constitution and the Good Medical Practice guidelines set out by the GMC. This is in keeping with their values-based recruitment policy which details the various factors involved in assessing their future medical cohort, such as respect and dignity. It is vital to thoroughly showcase these qualities in your own candidature.
It is also highly encouraged to stay on top of relevant medical news and advancements as well as re-read your personal statement, with a focus on skills-based reflection.
What are the Sheffield MMI examiners like?
Sheffield is unique in it's interviewer cohort, as they're more varied than most medical schools. Interviewers can range from admissions officers and doctors to patients and lay people. Many of them may have been instructed to remain neutral to promote unbiased marking.
Did the Sheffield MMI interviewers ask a lot of follow up questions?
Questions in the panel-style interview are sent out beforehand to students invited to the interview. Given that applicants therefore have time to prepare, surprise follow-up questions are to be expected. These may be from a predetermined list or may be in lieu of something that's caught their attention regarding your application.
Logistical advice for the interview?
For virtual interviews, ensure you have a quiet and bright space with a strong Wi-Fi connection and working camera and microphone. Ensure you will not be disturbed during your interview and avoid sitting in front of a bright light or window to prevent glare. Ideally, set up your interview space prior to the day and practice in that setting a few times to ensure comfort and logistical ease. If the university allows, it is helpful to have water to sip on throughout the interview.
How long did it take you to hear back after your interview?
Sheffield is very transparent with their admissions process. Their website delves into the details of the process, including what happens after the interview. Students will hear back in a few weeks following their interview but delays are not uncommon due to the logistical issues caused by the pandemic.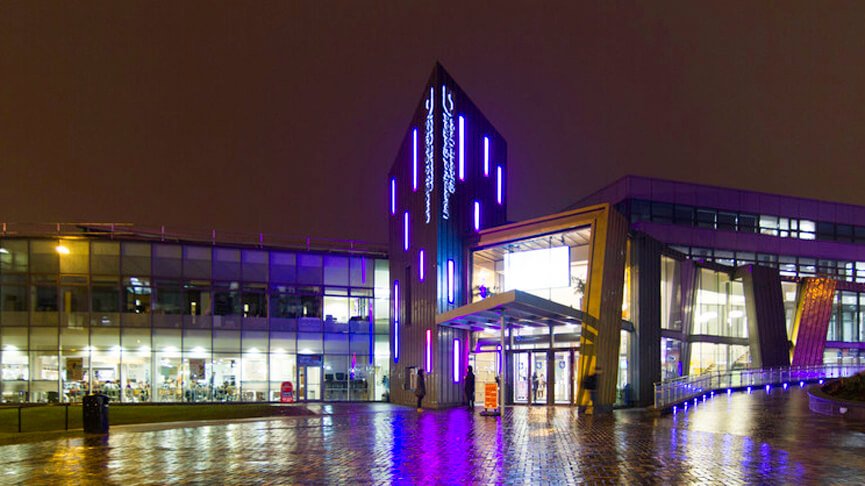 Top Tips for Sheffield Medicine MMI Interview
1. Prepare for the questions you're given – It is highly uncommon that medical schools give out their interview questions beforehand so don't let this be a wasted opportunity. Avoid rehearsing monologue style answers as this will be spotted and frowned upon immediately. Rather, build structured bullet-point answers to the given questions keeping in mind Sheffield's values-based recruitment and the NHS constitution.
2. Don't memorise answers – it sounds robotic and you might get stuck when a surprise or follow up question is added.
3. Learn about Sheffield – this includes the city, the university and the medical school and it's hospitals. Really think about why you'd like to go there, focusing on aspects of the course you like as well as the location. Personalizing this is a good approach – find out what components of Sheffield's teaching best fit your learning style as well as how their popular research fields fit into your areas of interest.
4. Use the university website and Good Medical Practice as your main study resources – everything you need is here! You can find both websites using the following links: Medical School , Medical Practice .
5. Don't panic! You can pause before answering questions so you have time to think, and can ask for clarification if you don't understand. You don't need to rush into giving an answer. It is more important to come across confident and approachable than to speak quickly.
Covid – 2021 Changes
Is the University of Sheffield MMI Interview different this year?
Usually, the University of Sheffield holds MMI interviews for it's medicine course, however due to COVID-19 the university will be holding online panel-based interviews instead via Blackboard.
Where can I find more information about the changes?
Full details of the changes for 2021 entry interviews can be found here: 2021 Entry Interviews
Download Free Medicine Interview Notes