>
X
Loading...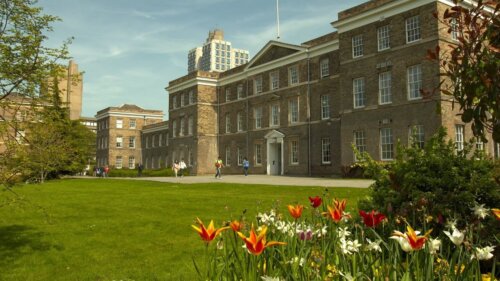 Leicester University Medicine Interview Questions
Note: This interview Q&A is based on pre-Covid in person interviews (from 2019 and before). All university interviews changed in 2020-2021 to an online format due to the Covid-19 pandemic. This article has been updated in November 2021 with further updated information, and we will regularly update it!
University of Leicester Medical School interviewed 1305 candidates in 2020/2021, and gave out 598 offers. This means that 1 in 2.2 people interviewed received an offer! University of Leicester MMI normally has 8 stations, each 7 minutes long with 1 minute reading time – so overall the interview is approximately 1 hour long. This year the interviews will be conducted online.
This year, for the A100 Medicine MBChB course they expect to interview around 1000 UK/EU applicants and about 100 international (non-EU) applicants. They currently intend to make approximately 850 offers. For the A199 Medicine with Foundation Year MBChB course they expect to interview around 100 applicants for 35 places. In this guide we provide an expert insight into past University of Leicester MMI stations, the University of Leicester medicine interview day and tips for converting your University of Leicester interview into an offer!
Download Free Medicine Interview Notes
2021/22 University of Leicester Medicine Interview in a Nutshell
What is the University of Leicester medicine interview style?
For 2021/22 entry the Leicester medicine interview will be conducted remotely like last year. The MMI circuit involves 8 stations, each 7 minutes long with 1 minute reading time.
When are the University of Leicester medicine interview dates?
Interviews for 2021/22 entry to Leicester Medical School are currently scheduled to take place online between December 2021 and March 2022. The exact weeks they will take place will be released by Leicester closer to the time.
These are subject to change if necessary. You will be invited to book your own interview date using the online electronic booking system. If you cannot attend any of the dates available, contact the Medical Admissions Team on +44 (0)116 252 2969 as soon as possible after receiving your invitation to interview.
What are the common topics for the Leicester Medicine Interview?
Motivation to study medicine and genuine interest in the medical profession
Reflection & insight into your own health
Personal organisation
Academic ability, conscientiousness & problem solving
Ability to deal with uncertainty and manage risk
Ability to take responsibility for your own actions
Communication skills, including reading, writing, listening and speaking
Teamwork abilities
Ability to treat people with compassion, respect and dignity
Empathy and the ability to care for others
Honesty
Emotional intelligence & ethical judgement
How many people interviewed in 2020/21 at University of Leicester for Medicine?
In 2020/21, Leicester Medical School interviewed 1305 students.
How many interviewed applicants received an offer from University of Leicester?
In 2020/21, 598 of the 1305 students interviewed received a Leicester Medicine Offer. This means 1 in 2.2 students received a Leicester Offer after the interview.
At Medic Mind we've helped many students secure offers from Leicester and other medical schools. If you're applying to Leicester, we can do a high quality 1-1 mock with you with an Leicester tutor and realistic stations uniquely for Leicester.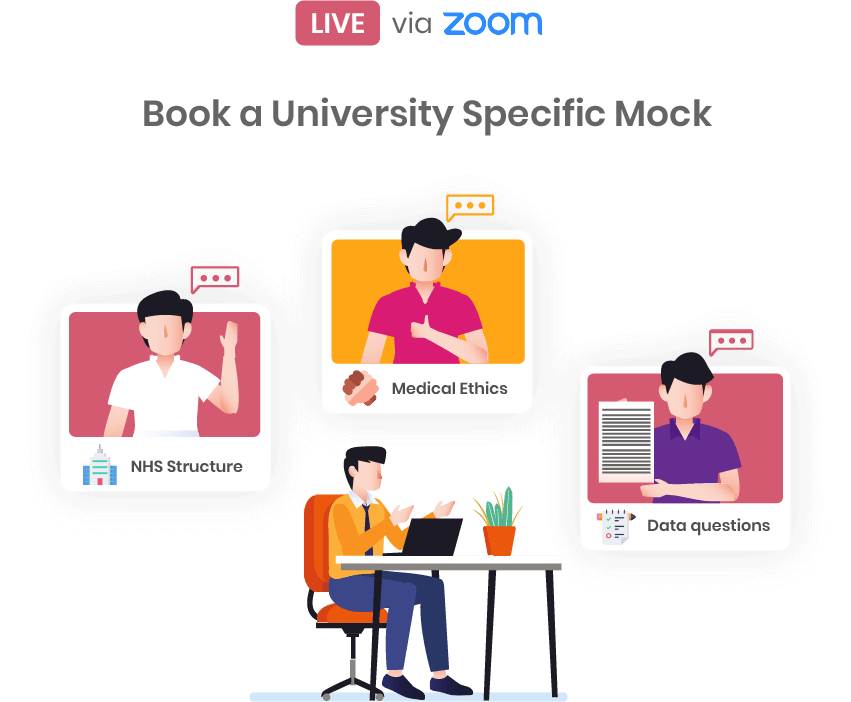 List of Recent University of Leicester Medicine Interview Topics
Theme
Leicester Example Questions
Data Interpretation & Numerical Analysis
Simple calculations
Video Observation
Evaluate clinical and communication skills
Why is teamwork important?
Communication & Role-Play
Guide an individual/actor through a simple task
Be encouraging
Motivation for Medicine
What challenges do doctors face?
What motivates you to study medicine?
Personal Qualities
What are your strengths?
Give examples of when personal qualities of yours have influenced the outcome of a situation
Video Observation 2
Why is the role of a GP important?
Discuss the GMC Guidelines and Duties of a Doctor
Article Evaluation
NHS Hot Topics
Wider Reading
Communication & Role-Play 2
Demonstrate empathy
If you would like to practice for the Leicester Medicine Interview, have a go at the following questions and check out our video on approaching MMI role plays here
When should problems in a healthcare setting be reported to a higher authority?
Why is confidentiality important? (You can also check out our interview video on confidentiality here
A patient is prescribed 50mg, tablets are 12.5mg each: how many tablets will you give?
A drug is available as 20mg/5ml: your patient's prescription is for 40mg, how many ml will be given?
Talk about something you've recently read that is related to medicine
A Leicester Medical Student's Perspective
Name 3 Reasons why you picked Leicester
Reason 1 – The course structure
Leicester's course structure is very well organized because it allows integration of key baseline knowledge during your first few years and then really helps it integrate it into clinical years during third to fifth year. Unlike other universities they integrate their clinical knowledge in first and second year as well by having clinical bedside teaching, dissections on cadavers and through interactive group work. The modules that are taught really prepare students for the clinical years. The clinical years are organized in general specialties and then extend into focusing on specific specialties in fourth year. This allows students to have a lot of time on a specific ward, in comparison to other universities where you are only able to spend a week or two on those specialty wards.

Reason 2 – The environment
The Leicester university has a really lovely modern medical school building very separate to the actual university. It allows students to really get to know their year. Especially since there are societies under the medical school catered towards medical students due to their schedule not aligning with the events of some of the main university societies. The city center always has something exciting to do with their vast number of food places and activities.

Reason 3 – The teaching.
Leicester has a brilliant set of professors, clinical health care professionals and clinical teaching fellows which are very skilled in explaining the difficult concepts in simple terms. They are always very welcoming and extremely easy to approach if the student has any questions or needs more help with the concept. The feedback that they receive from the students on regular basis also gets acted on very quickly. In general, the staff at Leicester has always been really helpful in both academic and non-academic issues.
What makes Leicester unique to other medical schools?
Leicester has a dissection room which is used the most in first year. Prior to the dissection day students are provided with some pre-reading on the topic being taught. They get provided with a workbook which has all the notes. Then they go through the information through lectures, apply that knowledge in group work and proceed to dissect that part of the body on cadavers. By the end of the day students have consolidated the same information in 4 different ways which really strengthens their understanding of anatomy.
Additionally, Leicester really recognizes the emotional challenges that come with being a medical student. They have included 'Health Enhancement Programme' in their course that teaches students research supported ways to manage your mental health and encourages practice of healthy habits like meditation. Equally, they allow students to choose your clinical partners in clinical years which makes outblock placements really fun and less stressful since they have their support system there in times of difficulties.
Insider Guide: University of Leicester Medicine Interview Day
How did you use the information provided at each University of Leicester MMI stations?
Pick out the key points of the scenario and think what skills/knowledge they want you to demonstrate. Remember – they want you to pass the interview! Try and link the scenario they give to key medical principles such as ethics or the GMC guidelines. Here's an article on some model answers involving Medical Ethics.
What were the University of Leicester MMI examiners like? Did the University of Leicester medicine interviewers ask a lot of follow up questions?
All the Leicester medicine interviewers were quite friendly – if a candidate became stuck, they were helpful in asking follow up questions. Some of the role play stations could be less friendly because they want to see how you act in a situation that's unfamiliar or awkward. Remember that it is okay to feel a little unsure if you just carry on the conversation and lead it towards resolving the situation. Follow up questions varied depending on the station. Some interviewers stuck to the questions on the instruction sheet outside the cubicle. It also depended on how well you answered them, if you covered all the points, they did not always ask any follow up questions.
Was there any guidance with timing at the University of Leicester medicine interview?
Some examiners cut you off if you begin to repeat yourself or when they get all they want for that question – and then move on to the next. Although it can be a bit disconcerting to be cut off, it's probably because you've answered the question well, so they want you to move on. Try to allow the examiner to direct the interview in the way they feel is best to get the most from you.
What were the role-play stations like during the medicine interview at Leicester University?
There were two role-play MMI stations assessing different skills. The actors responded well to candidates' attempts at building rapport and trying to find a solution. The most important point is to take it slowly and build an introduction/rapport (depending on your role) before steering the conversation towards the relevant issue. Remember to demonstrate empathy and be prepared to show off those acting skills!
What were the other Leicester MMI stations like?
The ethical questions were relatively straightforward – they sometimes used a video or an article to highlight a scenario, after which they asked you questions about it. Just remember to relate all your answers back to the GMC guidelines, the Duties of a Doctor and the pillars of medical ethics. It's also good to mention some relevant current events that can be used to emphasise your point, but only do this if its relevant! As for the personality station they asked questions about how you've developed your personal qualities. They did want examples but be careful of time constraints, so try to prepare want you want to say for that station during your reading time. For the data interpretation stations they gave an article to read. Keep the key points in your head and make sure you can briefly summarise the article, as well as think of the wider impacts on healthcare and society.
How are the the Leicester University medicine interviews scored?
Each applicant is given a score for every station and this is totaled up to give an overall score. For 2020/21 this was a score out of 105 and applicants with a score with 85 or above were offered a place.
How long did it take you to hear back after your Leicester University medicine interview?
This can vary, for example a candidate who had their Leicester interview in December heard back in February. Offers continued to be given out till around March/April time.
Top Tips for Leicester Medicine Interview
Go over your personal qualities and how you've developed them – most of all, what did you learn through these experiences. How will they make you a better doctor?
Reflect on your work experience – and how it shaped your motivation to become a doctor. Show your understanding of the challenges and mention why your motivation outweighs the challenges.
Practice difficult role play scenarios with friends and family – it's definitely one of those skills that only becomes easier with practice. If you practice difficult role plays before the interview, this will help your thinking and approach. Always consider how the role play relates to the necessary skills of being a doctor. For example, try 'breaking bad news' or 'encouraging a patient' as practice. We provide mock MMI interviews which include role-play stations through our interview lessons, find out more here MMI Interviews Tutors
Read the GMC guidelines – and try to make links between interview scenarios and what quality they are assessing. Here's a link to 'Good Medical Practice', which is a starting point Good Medical Practice
Practice speaking slowly and making eye contact – easy things to forget in the stressful moment, and they can really improve how confident you seem.
Be prepared for the communication skills station. Leicester loves communication stations whether this is roleplays, making you explain a task or showing you videos of consultations to comment on. The key for these stations is to be a good listener. Ask open ended questions at the start and then specifically pick on the verbal cues to continue the conversation. Use phrases of empathy and do practice coming off as empathetic too. If students ever find themselves struggling to continue the conversation, try questioning the information they have just given you. E.g: Patient: 'I have been struggling to do anything' Student: 'What has been happening John, could you tell me more?'
Give detail when giving responses. The best way to approach work experience questions is to give detail about the skills which were gained and then exploring what the student did specifically to gain those skills. E.g: 'I improved my communication skills by ensure I was giving information in small chunks, at a slow pace and checking up on the person regularly to see if they were following'. And if appropriate make sure to make links how this skill would be beneficial for you as a doctor.
Be knowledgeable about your NHS constitutions and GMC guidelines. It will be best practice for the student to know these well and for them to have practiced incorporating them in their responses. These can even be included in answers related to their motivation for medicine if appropriate.
Download Free Medicine Interview Notes