>
X
Loading...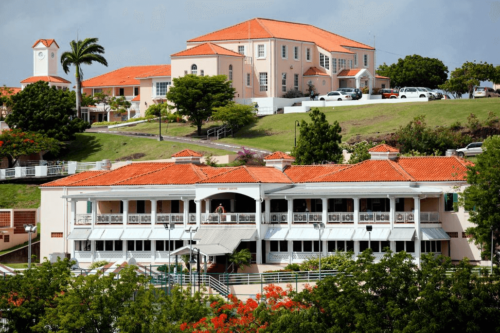 St George's Medicine Interview Questions
Note: This interview Q&A is based on pre-COVID in-person interviews (from 2019 and before). All university interviews changed in 2020-2021 to an online format due to the COVID-19 pandemic. This article has been updated in November 2021 with the latest information, and we will continue to regularly update it!
St George's Medical School interviewed 832 candidates out of 1612 applicants in 2020/2021, and ultimately gave out 397 offers. This means that 1 in 2 people who took the St George's Medicine interview received an offer!
For more information about St George's Medical School, check this out: St George's Medical School
The St George's Medical School interview has an MMI consisting of 6-8 stations, each lasting 5 minutes each. In this guide we provide an expert insight into past St George's MMI stations, the St George's University of London Medicine interview day and tips for converting your St George's Medical School interview into an offer!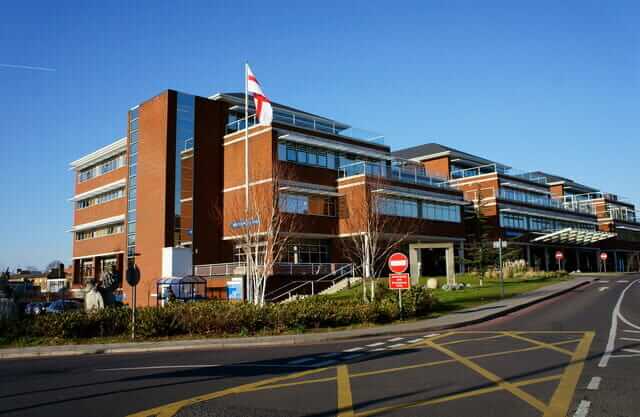 St George's Medicine Interview in a Nutshell
What is the St George's Medical School Interview style?
The SGUL interview is in an MMI format with 6-8 stations, each lasting 5 minutes. Information has yet to have been released by the university with regards to whether it will be held in-person or virtually for 2021-22.
What are the St George's MMI Dates?
Interviews typically take place between December and March.
What are the common topics covered at the St George's Medicine Interview?
The SGUL MMI covers a broad range of themes including;
Motivation for the career
Awareness of latest medical advancements and medico-political legislation
Demonstration of soft-skills such as teamwork and communication
Awareness of SGUL's history in Medicine (for example, the smallpox vaccine)
Role-play or task-based stations
How many people were interviewed in 2020/21 at St George's, University of London?
In 2020/21, St George's interviewed 832 students.
How many interviewed applicants received an offer from St George's?
In 2020/21, 397 of the 832 students interviewed received a St George's Medicine Offer. This means that roughly 48% students received a St George's Medicine Offer after the interview.
At Medic Mind we've helped many students secure offers from St George's and other medical schools. If you're applying to St George's, we can do a high quality 1-1 mock with you with a St George's tutor and realistic stations uniquely for St George's.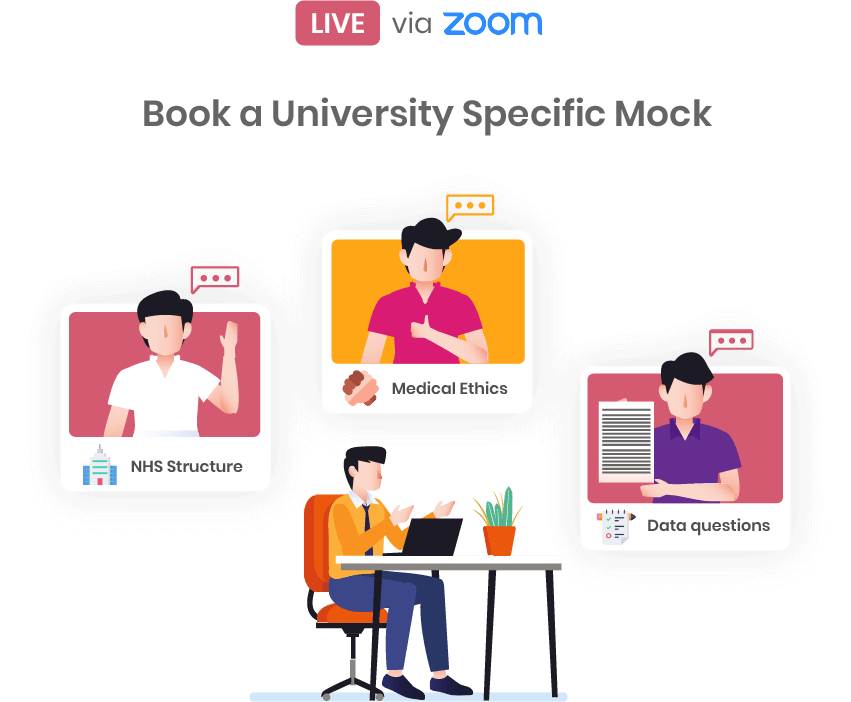 List of Recent St George's Medicine Interview Stations
Theme
St George's Example Questions
Motivation for Medicine
Motivation to pursue a career in Medicine
Career aspirations and goals
Work Experience
Self-reflection on work experiences
Communication & Role-Play
Dealing with difficult people, typically in non-clinical settings
Breaking bad news
Personality & Skills
Ability to deal with mistakes
Self-reflection on strengths and weaknesses
Demonstrating teamwork
Ability to give clear and concise explanations
Demonstrate problem solving abilities
NHS Hot Topics
Knowledge of the GMC and it's guidelines
Knowledge of scientific breakthroughs
Recent research papers
Medical Ethics
Opinions on popular ethical debates (eg: abortion)
Other
Motivation to study at St George's specifically
If you wish to practice St George's MMI mocks, here are some sample questions:
How are you a good candidate for Medicine?
What skills did you learn during work experience and which skills do you think you need to develop for the future?
You are a hotel receptionist. A family has arrived for their holiday but there is no booking on the system. Handle this situation with the father.
How would you deal with making a prescription error?
When have you worked in a team and what did you learn from this?
Explain how you would make a cup of tea, to someone who has never done it before.
Talk about a research paper you've recently read.
Discuss your views on abortion.
Find some more information and examples of questions on the St George's official website
A St George's Medical Student's Perspective
Name 3 Reasons why you picked St George's
Reason 1 – London/City Location
Growing up in London, a major city, I appreciate the multi-cultural aspects of attending diverse universities with students from many different backgrounds to my own. I desired the same experience whilst studying at medical school, I advise other students applying to do the same as a range of colleague backgrounds contributes greatly to the overall university atmosphere in terms of being exposed to new experiences and developing as a better well-rounded individual for it.

Reason 2 – Tertiary hospital/Trauma-center
Wanting to be emersed in a hospital environment from day one as a medical student, I applied St George's University as it shares the same campus location as St George's hospital. This means whilst I study and move around the university, I am consistently in contact with working healthcare professionals. This helps set the tone for a good working mind-set and encourages medical students to aspire to work in the NHS.

Reason 3 – High-Graduate Course Satisfaction
St George's ranked very highly across different leaderboards in terms of both graduate prospects following the Graduate-Entry Medicine course as well as general satisfaction of medical students with the University. As medicine is an intense course, I wanted to be supported by the school and helped as an individual – which I felt due to the high standards of student services available at the university, only possible at a smaller sized medical school with more available resources for the students.
What makes St George's unique to other medical schools?
Firstly, St George's was the first university to open a course for graduates to study medicine. A pioneer at the time, this enabled graduates of other courses ranging from English Literature to Biomedical Sciences to enter the medical profession on an expediated course of four years. The rich history is displayed across the university and still informs the nature of the course structure.
Secondly, St George's remains one of the few older London hospitals embedded within its community. Tooting and parts of South London have developed around St George's Trust for over 30 years and the hospital has evolved to always reflect the members of the distinct community. As part of the medicine course, students can take advantage of this and regularly have 'Community Visits' to get to know the range of patients.
Insider Guide: St George's Medicine Interview Day
How does the St George's Medical School Interview day work?
It is still unclear as to whether the SGUL MMI will be held in-person or virtually for 2021-22.
However, in the past, the MMI began with a presentation and debriefing from the medical school team followed by a tour of the facilities following which the MMI itself would begin.
What do you have to bring for the St George's Medicine Interview?
St George's University of London will provide you with documentation clearly stating what you must bring. When you receive this, please read and re-read it well before your interview as there is quite a bit of administration required and this requires preparation. Often, you will need to carry IDs, work experience forms, and other documentation.
As with any interview, ensure you dress formally! Additionally, it's best to have preparatory material or something to help you relax, such as a book, while waiting.
If the 2021-22 MMI is virtual, ensure you have a strong and reliable wifi connection with a working webcam and microphone. If permitted, a clock on the desk can help you keep track of time and having some water to sip on throughout can be useful too!
How do you receive information for each St George's MMI station?
You will be given information upon the start of each station but there is no separate reading time. However, there is never any harm in pausing to think before you speak.
What are the St George's Medical School interview examiners like?
The St George's examiners are trained to provide unbiased assessments of their candidates and this may involve a degree of neutrality that can come across as "cold". Do not take this personally as it does not say anything about you or your performance.
Do the St George's MMI interviewers ask a lot of follow up questions?
The interviewers cannot ask questions that are not on the sheet. This is helpful because as an interviewee, you can plan your time accordingly depending on the number of questions that you have to answer for that station.
Does the St George's interview require any pre-reading?
The SGUL MMI does not assess any medical or scientific knowledge. However, it is essential to have a thorough understanding of the GMC guidelines and the NHS' core values.
Additionally, it is highly advised to read up on the latest medical advancements and media whilst also researching St George's impact on medical innovation and practice.
How long is the actual St George's Medicine Interview?
40-45 minutes long.
Logistical advice for the interview?
If the interview is held in-person, Manchester University and its medical school are very accessible by local public transport. If you're coming in overnight, staying anywhere in the city should allow you to get there with ease by the bus.
For virtual interviews, ensure you have a quiet and bright space with a strong wifi connection and working camera and microphone. Ensure you will not be disturbed during your interview and avoid sitting in front of a bright light or window to prevent glare. Ideally, set up your interview space prior to the day and practice in that setting a few times to ensure comfort and logistical ease. If the university allows, it is helpful to have water to sip on throughout the interview.
How long did it take you to hear back after your St George's Medical School interview?
It may take a few weeks to hear back but delays are to be expected due to the disruptive nature of the pandemic.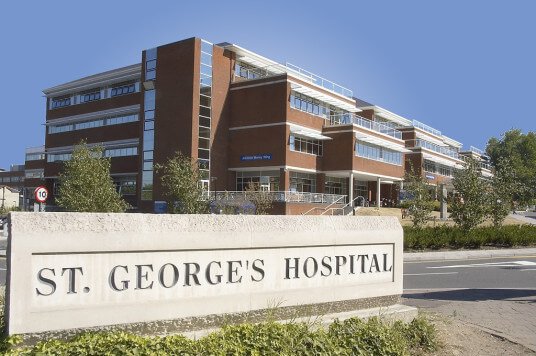 Top Tips for the St George's Medicine Interview
1. Complete any paperwork in advance.
Collate your references as soon as possible, as it is not ideal to leave this until the last minute. There is a fair amount of documentation that you are required to carry to the interview, if in-person (or show if virtual) so arrange this in an organized fashion preemptively.
2. Think about your strengths and weaknesses.
Reflect and evaluate on these so that you do not get put on the spot when asked questions related to this. Make sure you don't over-practice and sound like a robot though! Be reflective, as this is a key skill in Medicine!
For some example answers to personality and skills questions, have a look at this: Model Answers
3. Practice role plays with friends and family.
These stations are different to what you're normally used to so trying it out could be useful before your interview, to help you gain confidence and get used to the idea of role playing. Remember that they're not here to nominate you for the Oscars but rather to test your ability to effectively and confidently communicate. Focus on being approachable and empathetic.
4. Silence is okay.
In fact, taking some time to pause and collect your thoughts before answering will likely work in your favour. Just be sure to answer the questions they ask within the time allocated.
5. Do not tell jokes.
St George's University of London treat the Medicine interview as a professional interview and they recommend avoiding jokes. This is particularly important in role-plays as it may come across insensitive. Maintain a professional air at all times.
6. Be Yourself (overdone, I realize – however, that translates to letting your *personality* shine)
As a Graduate prospective student, medical schools are looking for well-rounded individuals who have utilized their previous degree, careers, and free time to explore themselves and their desire to become a doctor. If you've got a specific interest or area of medicine you'd like to go into, make it known and say why it's the case. The interviewers enjoy when students radiate enthusiasm for what they're studying and look forward to about clinical practice.
7. Showcase your experience to evidence your points and reasoning as to why you want to (1) Study Medicine, (2) Work as a doctor and lastly, (3) Contribute to the NHS.
Elaborate throughout each experience explanation, your role and actions you undertook, what that brought you in terms of understanding and how you can either apply it to clinical practice in the future or how it has developed you as an individual. By breaking down each work experience or extra-curricular activity you allow the interviewer to see what lesson you've learned and why that's important to understand how you will operate at the university as a student and in the NHS as a doctor. This is also why interviewees should not downplay extra-curricular activities or work-experience that's non-medical related as they equally importantly contribute to functioning as a doctor.
8. Breathe and relax as St George's wants its Graduates to be and operate as confident young professionals.
This puts the St George's interviewers at ease, who commonly are both medical students and possible future lecturers to the interviewees. For the development of a working relationship within an MMI station it requires the students to be open with their answers, appear candid and honest about their opinions and experiences. It's easy to slip into a nervous state and so rush important points. Simultaneously, taking a breath and pausing regulates the pace of answers.
Covid – 2021 Changes for the St George's Medicine Interview
Is the St George's Medical School Interview different this year?
In 2020, the St George's MMI was held remotely and required candidates to record their MMI answers and upload them to the university portal, following their instructions. It is unclear what changes will be made for 2021-22 but applicants will be made aware when invited to their interview.
For some guidance on taking online Medicine interviews, have a look at this useful document from the Medical Schools Council
Where can I find more information about the changes?
More details of the changes for 2021 entry interviews can be found here: 2021 Entry Interviews