>
X
Loading...

Birmingham University Medicine Interview Questions
Note: This interview Q&A is based on pre-Covid in person interviews (from 2019 and before). All university interviews changed in 2020-2021 to an online format due to the Covid-19 pandemic. This article has been updated in November 2021 with further updated information, and we will regularly update it!
University of Birmingham Medical School interviewed 1191 candidates in 2020/2021, and gave out 856 offers. This means that 1 in 1.4 people interviewed received an offer!
The University of Birmingham will have an online interview, with two stations lasting for 6 minutes with 2 minutes of preparation time. In this guide we provide an expert insight into past University of Birmingham MMI stations, the University of Birmingham interview day and tips for converting your University of Birmingham interview into an offer!

Download Free Medicine Interview Notes
2021/2022 University of Birmingham MMI in a Nutshell
What is the Birmingham interview style?
The Birmingham Medicine Interview is currently planned to be online via Zoom for 2021/22 entry. It will involve two 6 minute interview stations including a roleplay station, with 2 minutes preparation time where you'll be told the discussion topic and questions you need to answer. The entire station will last approximately 10 minutes in total to allow for time to move between stations. One station will tackle dealing with personal and ethical challenges and the role play station will involve having a conversation around substance issues. There will also be an online calculation station test, you will have 10 minutes to complete the task and this will happen on a different date to your interview.
What are the Birmingham Interview Dates?
Birmingham Medical School hasn't released exact dates for 2021/22 entry but the interviews will take place from Janaury – February. Interview invites are usually given out from the start of December on a rolling basis to mid February, with the last interviews being at the end of February.
What are the common topics covered at Birmingham?
Debate a medical hot topic
Qualities needed to be a doctor
Medical ethics
Personal strengths and weaknesses
Data interpretation
Communication – role play station
Dealing with personal and ethical issues
How many people interviewed in 2020/21 at Birmingham?
In 2020/21, Birmingham Medical School interviewed 1191 students.
How many interviewed applicants received an offer from Birmingham?
In 2020/21, 856 of the 1191 students interviewed received a Birmingham Medicine Offer. This means 1 in 1.4 students received a Birmingham Offer after the interview.
At Medic Mind we've helped many students secure offers from Birmingham and other medical schools. If you're applying to Birmingham, we can do a high quality 1-1 mock with you with a Birmingham tutor and realistic stations uniquely for Birmingham.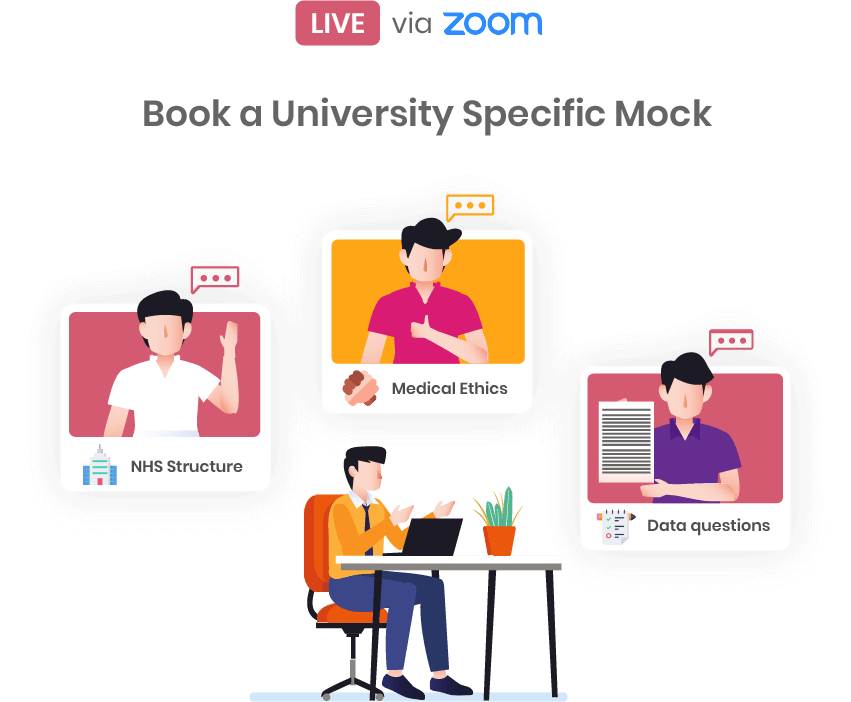 List of Recent University of Birmingham MMI Stations
Theme
Birmingham Example Questions
Motivation for Medicine
Interest in current health news
Why medicine?
Work Experience
Discussing work experience
Communication & Role-Play
Role play in various hospital and GP settings
Debating NHS hot topics
General communication with students/doctors
Breaking bad news
Consoling patients
Reflection on personal qualities
Personality & Skills
UCAT style maths station
Data interpretation of charts/graphs
Important qualities in medicine
Resilience
Learning from mistakes
NHS Hot Topics
Sugar/alcohol tax
Organ donation
Substance abuse
Legal highs
Paying for certain NHS services
Minimum unit pricing
Medical Ethics
Prioritising which patients receive organ donations
Scenario involving dishonesty
Personal Statement
No focus on personal statement
If you wish to practice Birmingham mocks, here are some sample questions:
What is a recent news article you have read?
What did you learn from your work experience?
Describe an interesting patient from your work experience?
Speak to an actor, who has come into the GP practice to discuss his low mood over the past 3 months
Speak to a fellow student, who believes the NHS should not provide treatment to smokers
Speak to an actor, who is a patient. Explain to the patient that they unfortunately have been diagnosed with cancer, and offer support.
Describe a time where you made a mistake. How did you feel?
Read this article on the proposed sugar tax. What are your thoughts?
Should organ donation be opt-in or opt-out in the UK?
A friend of yours has repeatedly missed university due to "illness". On Instagram, you see them away on a party holiday in Toulouse, meaning they have missed hospital clinics for 1 week. What do you do?
To prepare for your Birmingham MMI interview, may wish to check out our guide to approaching MMI role plays
A Birmingham Medical Student's Perspective
Name 3 Reasons why you picked Birmingham
Reason 1 – Birmingham was the first university I went to for an open day. I was impressed by the beauty of the campus and the opportunities to get involved not only in groundbreaking research but within the MedSoc, catering to a wide variety of interests and sports. Furthermore, the facilities on campus are great, with great places to study, eat and meet people and I'm a huge fan of the impressive new gym.

Reason 2 – I wanted to study in a city yet still retain campus life. Birmingham is a great city for culture, entertainment and art, bustling with new events and great nightlife. Having studied here for 2 years, Birmingham never fail to impress me, being such a big city with new corners and new events to explore all the time!

Reason 3 – Birmingham's teaching style is somewhat traditional (2 years pre-clinical, 3 years clinical) but with aspects of CBL and PBL integrated within the course. This means I could adapt very easily to how I was taught subjects at school, while giving us clinical practice to apply and test our knowledge. Birmingham also teaches anatomy through prosecution, which I personally enjoy because it illustrates anatomical structures and systems clearly and it removes pressure of having to dissect your own cadaver.
What makes Birmingham unique to other medical schools?
Birmingham is in the close proximity of the QE Hospital, which provides an exciting teaching experience and a range of revolutionary procedures and treatments. Furthermore, the transport links from the university are great, having a train station on campus which is easily accessible to the entire West Midlands and placements. Our MedSoc has often been rated one of the best in the country, offering one of the widest sets of societies, meaning there are new opportunities to get involved in any new or existing interests, regardless of how familiar you are with them. In addition, many societies are centered around specialties, allowing students to take part and learn more about medical specialties they take interest in. This means students can hone their interests and explore career options early, and that we are more likely to know which specialties we'd like to place in during foundation years.
Insider Guide: University of Birmingham Interview Day
How did the University of Birmingham Interview day work?
It will involve two online 6 minute interview stations including a role-play station via Zoom plus an additional calculation station that will take place on another day. There will be two interviewers present plus a possible observer may be present but not participate in the interview. One station covers dealing with personal and ethical challenges, where you'll be given a scenario relating to possible challenges a medical student or doctor could face and how you would tackle it. The role play station will involve having a short conversation around a substance issue with a role player and give appropriate advice. The calculation station will test mathematical skills at GCSE level and below, involving two separate tasks that you'll have 20 minutes to complete.
What was the dress code for the University of Birmingham Interview?
Something smart but comfortable.
How did you receive information for each University of Birmingham station?
There is a 2-minute preparation time, where you will be given information on what the station involves.
What were the University of Birmingham examiners like?
Some were friendly, but most were slightly cold. Some would shut down all the ideas I put across, so I think there was definitely some assessment of how applicants dealt with this stress. The MMI examiners also gave us a 1 minute warning towards the end of each station.
Did the University of Birmingham interviewers ask a lot of follow up questions?
There were a lot of follow up questions with some multiple set questions. This was good as it meant the conversation would use up all the allotted time. Some were unexpected questions, but they were all linked to the initial question.
How is my interview score used at University of Birmingham?
Your interview score will be added to your calculation station score and UCAT SJT result. Your interview score counts for 50% of this score.
How long did it take you to hear back after your interview?
I heard back one month after my Birmingham medicine interview, but you may have a longer or shorter wait. We also received feedback from the interview after hearing if we got a place.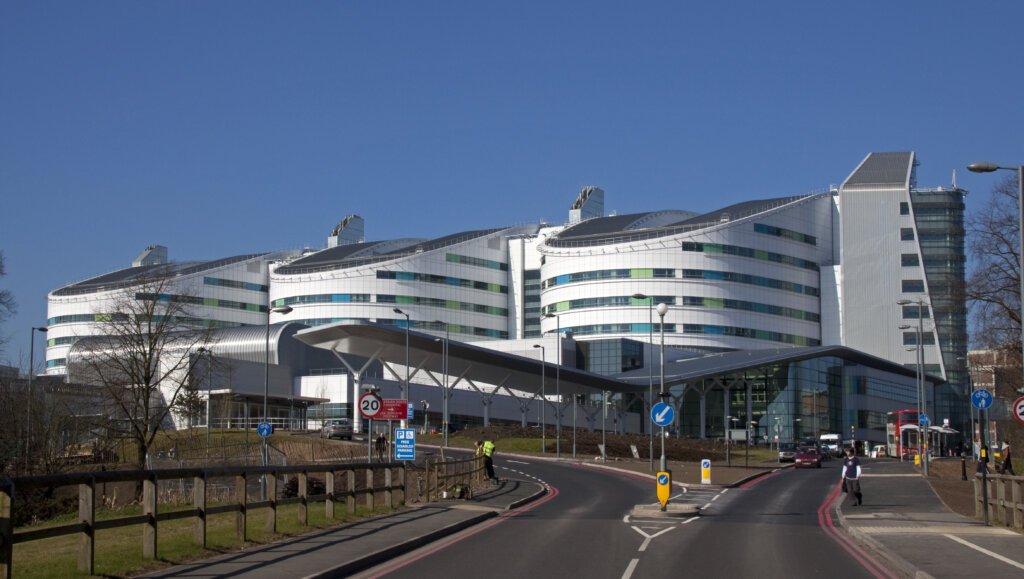 Top Tips for University of Birmingham Medicine MMI Interview
1. Do your research on Birmingham medical school. Make sure you have looked at the University of Birmingham Medicine MMI Interview website. The website includes statistics, preparation information, MMI station hints and an explanation of how applicants are scored.
2. Don't get disheartened if they grill you! Do not be put off by the interviewers if they seem uninterested whilst you are talking or appear to dislike your answer. This is often just to put you off and see how you cope. Try your best to stay level headed.
3. Read the MMI instructions carefully. Read quickly outside the station and try to retain as much of it as you can. You do not want to enter the station and forget what it is about.
4. Know the NHS Hot Topics. The University of Birmingham recommends keeping on top of current medical issues and discussing and debating them with friends or family as preparation for your Medicine MMI interview. We have a great page here for NHS Hot Topics.
5. Specific examples are incredibly useful! Have a couple for each important skill you would like to mention, each news article you have read and your work experience
6. Stay calm. Many of the interviewers are friendly and will make an effort to make the interview as comfortable as possible for applicants. They all want to see you perform at your best and want to get the best idea of you they can. Personality is a big factor for Birmingham, as they look for well-rounded, compassionate and motivated individuals who would flourish into great doctors.
7. Read up on NHS hot topics and develop an argument for how you feel about many of them. It doesn't necessarily matter how you feel about most topics, but your reasoning will stand out as long as long as you can back up your argument with well-researched and reasonable answers. You should aim to benefit the majority of patients and the NHS together, taking into account costs, availability and quality of life for patients involved. While they will not ask for solutions to many of the problems' affecting the NHS (as you are not expected to fix them yourself) it will always be useful to acknowledge that many of these are difficult, multi-faceted issues and thus try to address them from all standpoints (e.g. from the view of doctors, nurses, healthcare staff and patients).
8. Brush up on mental maths skills. The maths stations at Birmingham can be daunting for many people as they assume they will need a vast knowledge of mathematics and a lot of practice. All calculations require nothing more than a basic GCSE knowledge of maths, and although time pressure can be a key factor, adequate time is provided during the station to allow students to work through each question and check their answers. Most questions are related to drug calculations and figures are easily provided, however since subsequent questions are based on previous question answers, getting just one of them wrong could cost you a series of other questions.
Covid – 2021 Changes
Is the University of Birmingham MMI Interview different this year?
All interviews will take place from January to February, online via Zoom. Your interview will consist of two 6-minute interview stations and a separate calculation station. You will get 2 minutes of preparation time per station, plus extra time for moving to different stations. The online calculation station test will take 10 minutes but will not be on the same day as your interview.
Where can I find more information about the changes?
Full details of the changes can be found here 2022 entry interviews
Download Free Medicine Interview Notes