>
X
Loading...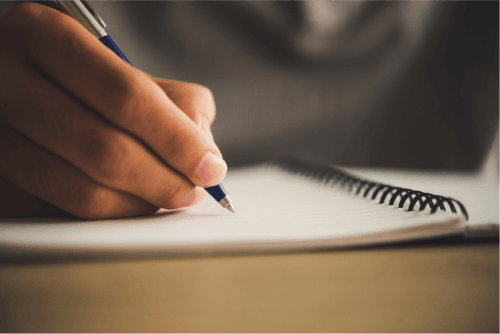 BMAT Section 3 Preparation Tips
What is BMAT Section 3?
In BMAT Section 3, you are given a choice of three essay titles and 30 minutes in which to answer one. You are only given a single side of A4 paper to do this, so you won't be expected to write too much. Each essay title takes the form of a provocative or opinionated statement, sometimes in the form of a quote, with three accompanying prompts.
These prompts nearly always follow the same pattern, asking you first to explain the statement, next to provide counter arguments, and then to resolve or clarify the debate in some way with a conclusion of your own. While this is the most common format, don't be surprised if a question doesn't match this exactly as there is some variation.
What sorts of BMAT Section 3 essay titles should I expect?
According to the BMAT website, Section 3 "tests the capacity to develop ideas and to communicate them effectively in writing. It is not a test of knowledge'" In keeping with this, the essay titles do not have syllabus material and there isn't any content you need to specifically learn for it.
Take a look at the many available past papers for guidance. Typically, the three titles include one statement on healthcare, one on science more broadly and one that doesn't relate specifically to medicine at all – on human nature, society or politics, for instance.
Your instinct may be to prefer the healthcare or science titles on the grounds that they're closer to home and feel more comfortable. But these titles can still be pretty abstract and philosophical, challenging you to think creatively under pressure. A broader title may prove easier to answer since it allows for a wider range of suitable examples to be introduced.
How is BMAT Section 3 marked?
Your essay will be marked by two examiners, each of whom gives two scores. One score, on a scale from 0 to 5, is for content: your grasp of logic, how well you've dealt with the prompts, the structure of your argument, your use of examples to support your case, and so forth. The other score, on the scale A-E, is for quality of English: fluency, spelling, grammar, sentence structure and vocabulary.
The examiners' scores are then averaged – to use an extreme example, 4A from one and 3C from the other would become 3.5B. 5A represents the best possible score. In 2020, 3 was the most common score for content, with only less than 10% of candidates scoring 4 or more. Over 70% of candidates achieved an A for quality of English.
How do I prepare for Section 3 BMAT?
Attempting past or specimen essay questions is one of the best ways to prepare. You might want to start without time pressure, but should try writing under strict exam conditions nearer to the exam date. Practise writing your essays on the specimen answer sheet to get a feel for how much you can fit on the page. There is no extra pages available so you will have to fit everything you want to say into the examination sheet. When you've done an essay, ask someone to read over it and spot any room for improvement you can't necessarily identify just on your own.
Wider reading on ethics, science and current affairs is valuable for learning case studies. These will boost your answers, but don't go overboard. Rather than trying to cram your head with dozens of examples, you should practise working information you already know into your writing in an appropriate and concise way.
How will my Section 3 score be used by universities?
The way the score is used is complicated and varies among different universities. For instance, Brighton and Sussex (BSMS) creates an overall BMAT score, to which Section 3 contributes the most. They then apply a cut-off below which applicants are not considered for interview. Oxford, on the other hand, assesses suitability for interview according to a 50:50 weighting between GCSEs and overall BMAT score. Section 3 constitutes 20% of this, with Quality of Content given twice the weight of Quality of English.
These procedures can also change from year to year and so it's important to check the website or prospectus of each BMAT medical school you're considering applying to. Our medical schools guide has a section for BMAT detailing how each score is used to select candidates.
Section 3 essays may also be used as material for interviews. Candidates at UCL, for example, are often asked to review their essays and talk about them in more detail. You should make notes on the day of the BMAT about the question you answered and what you wrote. Otherwise you may not remember much by the time invitations to interview are sent out!
BMAT Section 3: Top Tips
BMAT Section 3 essay-writing represents an intimidating final hurdle for many BMAT takers. Given the time and space limitations (30 minutes, one side of A4), savvy exam technique is essential to maximise your score.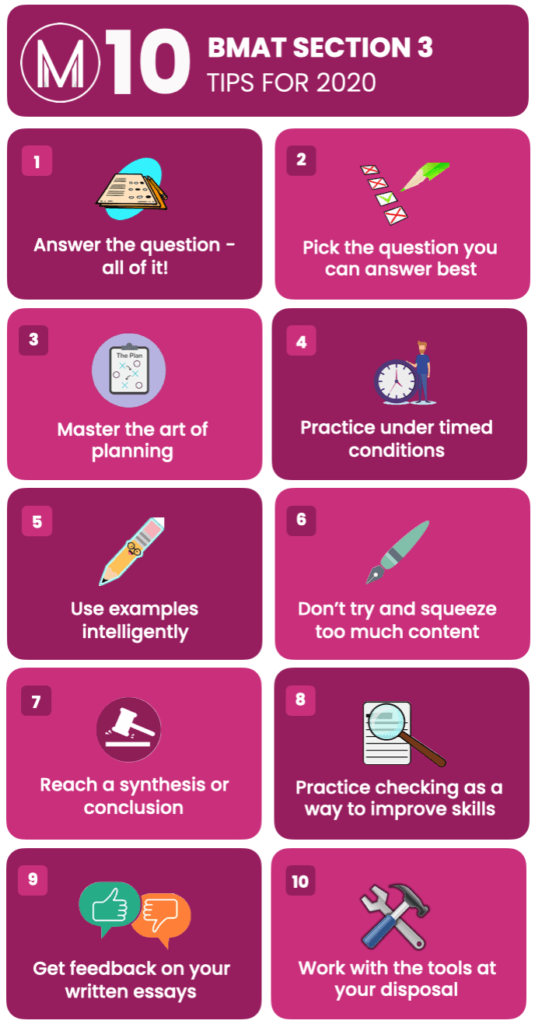 1. Answer the question – all of it!
Don't, whatever you do, fail to answer the question you choose in its entirety. This means more than just sticking to the title. It means addressing all three prompts and giving proper attention to each. The reason for this is that the marking criteria make it difficult for an examiner to award a score of more than 2 to any answer that doesn't consider all aspects of the question, even if it's well written.
2. Pick the question you can answer best
This may sound like strange advice but candidates often admit they find it hard to decide which title to choose. Pick the question you can answer best, namely the one for which you can produce the best explanations and arguments, introduce the strongest examples and see yourself writing a solid, page-long essay the most comfortably. Don't just pick a title because you've heard the quote before or because one specific example comes to mind.
Crucially, be careful if you like two of a question's prompts but may have to largely ignore the other because you don't quite understand it or just can't think of anything to say. It's really important that you respond to all three in your answer so that you can fully answer the question.
3. Master the art of planning
You've probably heard it before: don't start writing until you've got a clear plan. Use the question sheet (don't use the lined answer sheet as you need all the space for your answer!) for this. Planning should take at least five minutes. Some people suggest 10 or 15, because the writing itself can be quick when there's a good plan to follow. If you don't need at least five minutes to plan or don't find that it makes you write faster, your planning technique probably needs improvement.
A plan should have structure. Break it down into the three or four paragraphs you will write, mirroring the question's three prompts. Each planned paragraph should mark a distinct section of your argument and be associated with examples you want to use.
4. Practise under precise exam conditions
This is a really useful way to avoid disastrous timing mishaps on the day. Although not all of your essay practice should be under such strict limitations, it's sensible to try writing some mock answers in only 30 minutes. Try to develop a precise 30 minute schedule that works for you. Make sure this contains time for choosing your question, planning, writing and proof-reading. It's not a bad idea to take this a step further and attempt past Section 1s and 2s beforehand. This will mimic the full intensity of the real exam.
It's advisable to print off blank specimen answer sheets from the BMAT website, which definitely don't offer as much space as a standard side of A4.
5. Use examples intelligently
Much is made of the need for examples to justify your arguments in Section 3 essays. But thinking of examples is only half the battle – using them effectively is the real skill.
Examples should be relevant to your points and expanded upon to an appropriate degree. Don't overdo a case study in a way that provides irrelevant or obvious detail, wasting time and precious space on the page; equally, don't make throwaway references that need further explanation. It's important to realise that not all examples should be given the same level of attention.
6. If you can't write the right amount, you're (probably) doing something wrong
If you tend to struggle for space, either your handwriting is too large or you're trying to squeeze too much into the early stages of your responses.
On the other hand, if you feel daunted by the task of producing close to a page's worth of writing (and your handwriting isn't tiny), try to break the essay down into clear units. After all, a page fits only three or four paragraphs and a paragraph may only contain five or so sentences. This way, it doesn't seem quite so scary.
Either way, many people find it helpful to lightly mark out the area of the page that will fit each paragraph, by way of guidance.
7. Reach a synthesis or conclusion
A good BMAT essay will consider arguments for and against the title statement. A great essay will, in the words of the marking criteria for a score of 5, lead 'to a compelling synthesis or conclusion'.
This will need to be more nuanced than a declaration of your total support for one side of the debate. That said, there's limited value in merely rephrasing earlier points. Consider offering a resolution between the two halves of your argument, even if this ends up closer to one side than the other.
8. Practise checking as a way to improve your writing skills
You should aim to save time at the end to check for mistakes in spelling and grammar. You can add finesse to your essay by inserting punctuation or adverbs that enhance the argumentative quality of your writing.
Employ this checking and refinement process during your BMAT preparation. You'll find yourself making improvements in real time on the day. If there are grammar or spelling rules you don't understand, you should be looking these up in advance. The more checking you do in practice, the less you'll have to do in the BMAT itself.
9. Get feedback on your practice essays – from anyone
Painful though it might be, get someone to critique your practice essays and spot the room for improvement you may have missed. If you want experienced BMAT tutors to provide specific score indications, look no further than Medic Mind! But anyone – friends, family, teachers, neighbours – whoever takes time to read the official Section 3 marking criteria can be a decent starting point.
10. Work with the tools at your disposal
There's no need to panic if you don't feel English is your strong suit. You're not trying to write a prize-winning piece of non-fiction. The bar is set relatively low, and you've been given a number of ways to improve your writing with practice.
11. Familiarise yourself with considering different points of views
The BMAT Section 3 wants to see your ability to consider different sides of an argument and articulate these various points of view simply and coherently. When you're planning your essay consider what different groups of people could be impacted by the topic e.g patients, doctors, general public and highlight their points of view. Then consider counter-arguments to the points you have made to evaluate the points you've made so you have lots of material to work from.
12. Stay up to date with medical and social issues
The writing tasks in Section 3 usually have a general, scientific, or medical theme. Try to keep up with the news, particularly keeping an eye out for articles related to science and medicine. Consider discussing these articles with your family and friends to hear multiple points of view and practice articulating your thoughts. Doing this will make it easier to write down your thoughts in an essay format when presented with a question.