Manchester University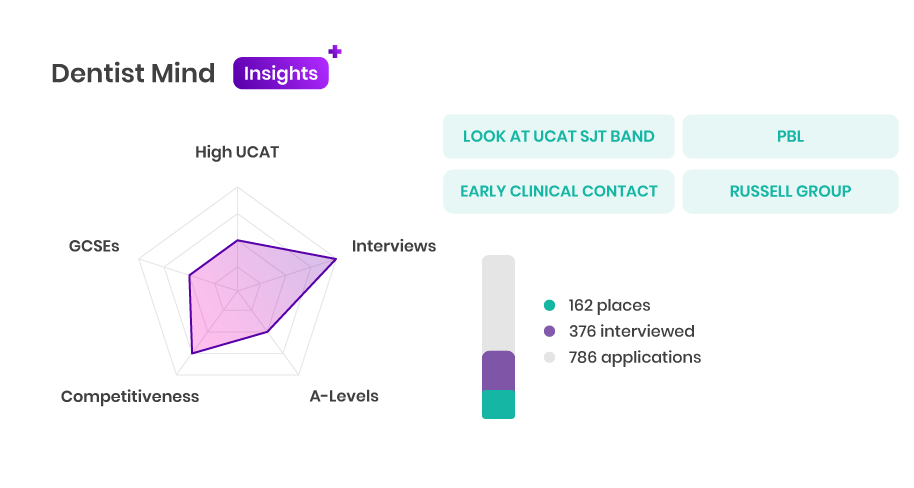 Overview
Manchester Dental School allows students the opportunity to have extensive clinical experience early on in Year 1 and students are taught by enquiry-based learning.
There is an emphasis on research at Manchester Dental School. Students will pose a clinical question and assess existing published literature to draw conclusions.
Interdisciplinary learning allows students to have the experience of learning alongside students and professionals from a range of different backgrounds.
Academic requirements also include GCSEs so it is important to have performed well at this level if you wish to apply to the University of Manchester.
Key points
Emphasis on Enquiry-based learning
Early Clinical experience
Extra Non-Academic form required
Must have Band 1-3 for UCAT SJT
About the university
Compare
Key Information
Website
https://www.manchester.ac.uk/study/undergraduate/courses/2021/00398/bds-dentistry-first-year-entry/
Email
ug.dentistry@manchester.ac.uk
Phone number
0161 306 0211
Course Information
Teaching style
Enquiry-based learning (EBL)
Students will learn in small groups and follow an enquiry-based learning programme, supported by peer mentors.
There is extensive clinical experience from early in Year 1. The Emphasis on EBL means that traditional lectures do not form a major part of the course
Course length
5 years
BSC
Yes
Students can choose to intercalate between years two and three in a range of relevant bioscience and healthcare subjects.
Courses offered
2 courses offered
Undergraduate and Graduate entry - 5 years
Foundation entry - 6 years
Graduate entry
Yes
Foundation or access
Yes Dentistry with foundation year – 6 years
University Life
Local area
City of Manchester
For years 1 and 2 you will be mostly based on the University of Manchester's Oxford Road campus before moving within the local area, as well as across the region in years 3,4 and 5
Social life
The University of Manchester is home to the UK's biggest Students' Union with more than 450 clubs and societies run for students, ranging from sports clubs to subject-related societies.
Interview
Interview style
MMI
7 stations, each lasting for 7 minutes with a 2-minute gap between stations.
Interview dates
December-February
Interview topics

Work Experience
Ability to communicate effectively
Why do you want to be a dentist
Ethical Issues

Admissions Tests
UCAT
Typically, applicants will need achieve a score in the top third of all results nationally with a Band 1 or 2 in SJT. In 2019, students who scored in the top third had a score of 2540 or over. Applicants who achieve Band 4 in SJT will not be considered.
BMAT
N/A
GAMSAT
N/A
Academic Requirements
GSCE
GCSE's not used past minimum entry requirements
Grades required: Seven GCSEs at grade A (7) or A* (8+).
A minimum of grade B (6) in English Language, Mathematics, Dual Award Science (or individual Science subjects).
A-level
AAA is common
Subjects required: Chemistry and Biology
Grades required: AAA
Offer does not include combinations of very similar subjects, for example, Biology and Human Biology or Maths and Further Maths together.
Retake policy
Yes
Applications are considered from applicants who are retaking their A-Levels.
Scottish highers
Subjects required:
Grades required: Four Highers at grades AAAA by the end of Secondary 5.
English Language and any science subject (Maths, Chemistry or Biology not taken at Higher/Advanced Higher must have been achieved at SCQF level 5.
Scottish advanced
Subjects required:
Grades required: 2 Advanced Highers at grades AA by the end of Secondary 6. Any of the following combinations are acceptable:
· Three Advanced Highers at AAA, including Chemistry and Biology plus one other subject;
· Two Advanced Highers, plus one A2-level subject at grade A (subjects as above);
· Two Advanced Highers, plus one new Higher at grade A (subjects to include Chemistry and Biology at Advanced Higher).
Scottish Highers in addition to Scottish Advanced Highers.
IB
Grades required:
37 with at least a 7,6,6 at higher level.
Chemistry and Biology, plus one further subject at higher level.
Bachelor's Degree (Gradutes Only)
2:1 Honours Degree
A Minimum of BBB achieved at A Level.
Statistics
Applications in 19/20
Total number of home applicants: Approximately 700
Interviews in 19/20
Total number of applicants interviewed: Approximately 350
Offers in 19/20
Total number of offers: Approximately 150
Success rate in 19/20
Application success rate:
Offers per applicant: 1 in 4.7
Interview success rate:
Offers per interview: Approximately 1 in 2.3