Sheffield University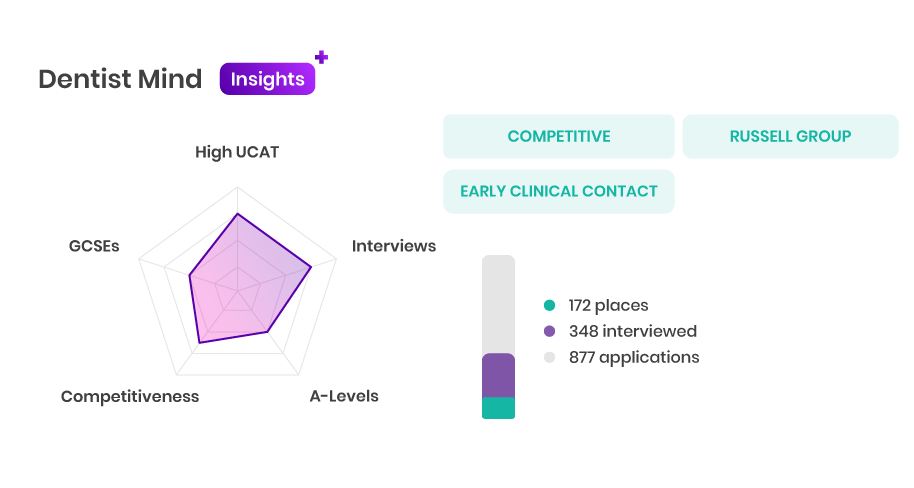 Overview
Sheffield Dental School has a strong belief in integrating Dentistry students with Dental hygiene and therapy students when appropriate to do so. Integrated learning gives students excellent practice for working in interdisciplinary teams.
Students will be primarily based in Charles Clifford Dental Hospital for lectures and clinics. Sheffield dental school is one of three dental schools in the UK to use haptic technology, allowing students to use virtual dental instruments on virtual teeth. This readies students for early clinical practice.
The combination of integrated teaching and practical experiences produces caring, confident professionals.
Key points
Early clinical experience
Integrated learning
About the university
Compare
Key Information
Website
https://www.sheffield.ac.uk/prospectus/courseDetails.do?id=A2002020
Email
dental.admissions@sheffield.ac.uk
Phone number
0114 215 9307
Course Information
Teaching style
Integrated/Traditional
Dentistry and dental hygiene and therapy students learn alongside each other to prepare them for practice.
Students will be taught through a combination of lectures, small group seminars, tutorials, clinical laboratory sessions, virtual reality simulation and supervised clinical activity
Course length
5 years
BSC
Yes
Students can choose to intercalate between years two and three to undertake a research degree in BMedSci.
Courses offered
1 course offered
Undergraduate and graduate entry - 5 years
Graduate entry
Yes
Foundation or access
No
University Life
Local area
City of Sheffield
One Third of Sheffield is within the Peak District National Park, an attraction for hill walking and bike enthusiasts.
Social life
There are over 350 societies for students. 'Give it a Go' allow students to try different clubs and activities.
One Third of Sheffield is within the Peak District National Park, an attraction for hill walking and bike enthusiasts.
Interview
Interview style
Panel/Interpersonal Skills Test
The panel interview is conducted by two members of staff and one student and will last 15 minutes. Prior to the interview, you will be asked to take part in a short interpersonal skills test.
Interview dates
March
Interview offers are sent out towards the end of January. Interviews tend to be at the beginning of March.
Interview topics

Career Exploration
Values, Personal Qualities & Communication Skills
Commitment to Sheffield
Evidence of Independent thought
Motivation for the course
Motivation for the profession and knowledge of current issues

Admissions Tests
UCAT
Typically, applicants will need to achieve a total score which is average or above in order to be successful in applying.
Students who have achieved their A-level grades are assessed separately and are required to achieve a lower threshold.
SJT must be band 1,2 or 3
The average UCAT score in 2019 was 2483.

BMAT
N/A
GAMSAT
N/A
Academic Requirements
GSCE
Grades required: 6 GCSE grades at 7/A including Maths, English Language and Science
A-level
Subjects required: Chemistry and Biology
Grades required: AAA is common
EPQ: AAB including AA in Chemistry and Biology and B in a third subject and B in EPQ. EPQ must be dentistry related.
Retake policy
Yes
Applications are considered from applicants who are retaking their A-Levels.
Scottish highers
Grades required: AAAAB including Biology + Advanced Higher Chemistry at grade A. Or AAAAB including Chemistry + Advanced Higher Biology at grade A
Scottish advanced
Grades required: Grade A Advanced Higher Chemistry or Grade A Advanced Higher Level Biology
IB
Grades required: 36 with 6 in Higher Level Chemistry and Biology
Bachelor's Degree (Gradutes Only)
2:1 Honours degree in a related or core science subject
Statistics
Applications in 19/20
Total number of home applicants: Approx. 800
Interviews in 19/20
Total number of applicants interviewed: 350
Offers in 19/20
Total number of offers: 180
Success rate in 19/20
Application success rate:
Offers per applicant: 1 in 4.4
Interview success rate:
Offers per interview: 1 in 2