>
X
Loading...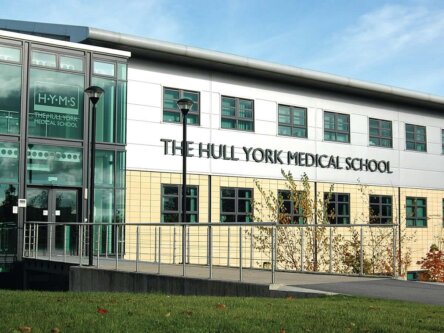 Hull York (HYMS) Medicine Interview Questions
Note: This interview Q&A is based on pre-COVID in-person interviews (from 2019 and before). All university interviews changed in 2020-2021 to an online format due to the COVID-19 pandemic. This article has been updated in November 2021 with the latest information, and we will continue to regularly update it!
Whilst the latest admissions data for 2020-21 has not yet been released, Hull York Medical School interviewed 670 candidates in 2019/2020, and gave out 231 offers. This means that 1 in 2.9 people who took the Hull York Medicine interview received an offer.
For more statistics and general information about Hull York Medical School, click here: Hull York Medical School
The Hull York Medical School interview consists of multiple parts; 3 mini interviews, group work scenario, inidividual scenario and a student section. In this guide we provide an expert insight into past Hull York MMI stations, the Hull York Medicine interview day and tips for converting your Hull York Medical School interview into an offer!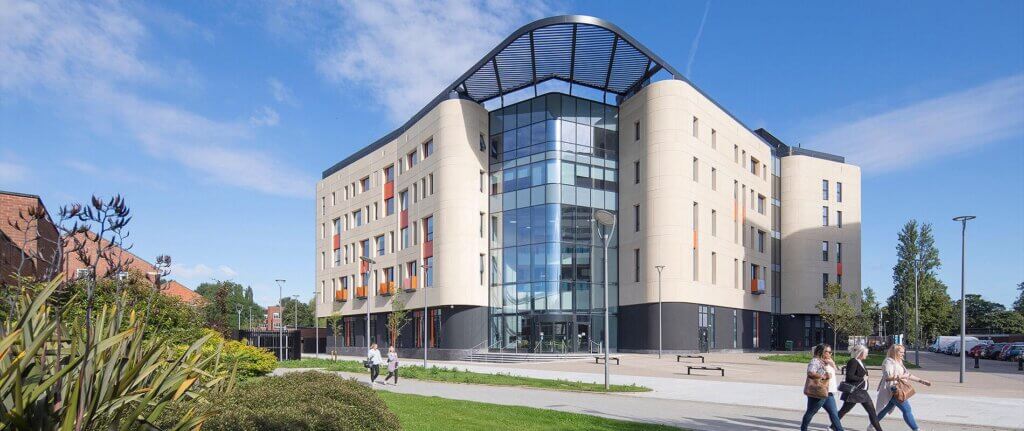 Download Free Medicine Interview Notes
Hull York Medicine Interview in a Nutshell
What is the Hull York Medical School Interview style?
The interview consists of 6 sections, each of which have different weightings.
The sections are:
Group exercise worth 15 points
3 mini interviews worth 15 points each
Individual scenario worth 10 points
Student station worth 10 points
For more information about the interview structure, have a look at this page: Hull York Interviews
Scores will be summed up totaling to a maximum of 80 and added to an additional 20 points given for SJT banding and other measures of aptitude, such as educational performance. Top scorers, out of 100, will be given a place on the program.
When are the Hull York Medical School Interviews held?
December and January.
What are the common topics covered at the Hull York MMI?
Collaborative work
Contribution to group discussions
Insight into a medical career
Understanding of NHS values and current medical issues
Motivation for Medicine
Motivation to study at Hull York
Qualities of a good doctor
Critical thinking & application

Communication skills
How many people were interviewed in 2020/21 at Hull York?
The statistics for 2020-21 are not yet publicly available but in 2019/20, Hull York Medical School interviewed 670 students.
For 2021-22, HYMS expects to receive up to 2000 applications of whom they expect to invite 830 to interview for 566 offers.
How many interviewed applicants received an offer from Hull York?
In 2019/20, 231 of the 670 students interviewed received a Hull York Medicine Offer. This means around 34% of interviewed students received a Hull York Medicine Offer.
To learn more about the Hull York Medicine course in general, have a look at their official page: Hull York Official Page
At Medic Mind we've helped many students secure offers from Hull York and other medical schools. If you're applying to Hull York, we can do a high quality 1-1 mock with you with a Hull York tutor and realistic stations uniquely for Hull York.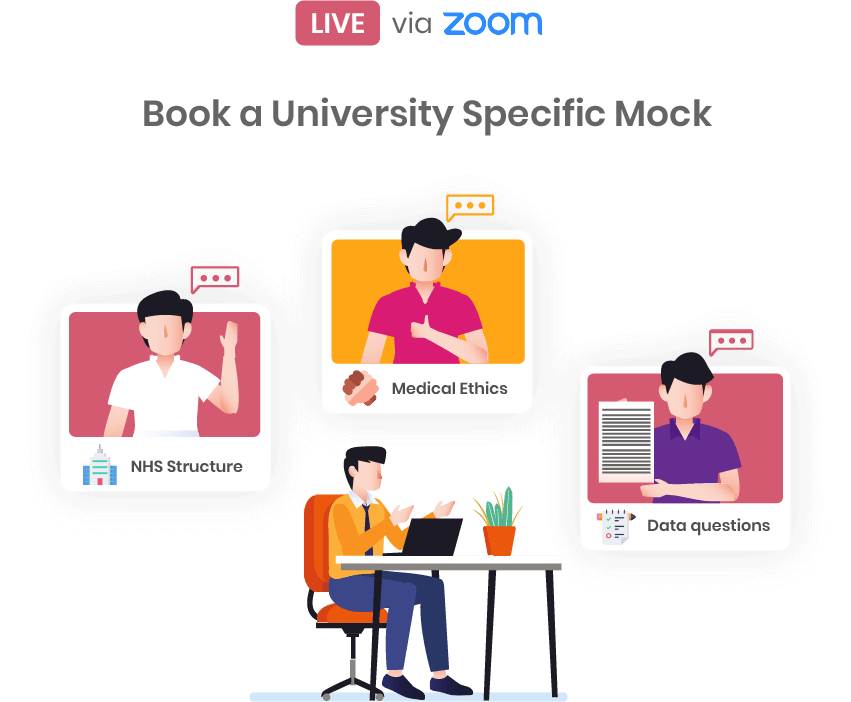 List of Recent Hull York Medicine Interview Stations
Theme
Hull York Example Questions
Motivation for Medicine
Motivation for pursuing Medicine
Motivation for pursuing Medicine over Nursing or other healthcare professionals
Future career goals
Work Experience
Impact of work experience
Learning objectives
Communication & Role-Play
Ability to work in a group
Active contribution to group discussions
Listening skills
Personality & Skills
Extra-curricular hobbies and interests
NHS Hot Topics
Discussion of relevant topics in the media
NHS structure
Knowledge of current news regarding healthcare
Medical Ethics
Scenario responses
If you wish to practice Hull York Medical School Interview mocks, here are some sample questions:
What are your views surrounding euthanasia? (discuss in group)
Why have you chosen Medicine?
What was the most important thing you learned from your work experience?
How did your work experience confirm this career choice for you?
Your friend has just received very sad news.
Go and have a conversation with her to support her.
How do you maintain a good work-life balance?
What do you do outside of your studies?
How do you think the COVID19 pandemic will affect the NHS?
You have caught your friend at Medical School cheating on their exams.
How do you react to the situation?
A Hull York Medical Student's Perspective
Name 3 Reasons why you picked Newcastle
Reason 1 – PBL learning. The structure of problem-based learning is a very good structure for new medical students. This is because you learn to problem-solve in groups as opposed to being 'thrown in the deep end' by yourself. Bouncing ideas off each other whilst being facilitated by a tutor allows room for thought, discussion and adding to each other's ideas. The way it works is that you are presented with two cases each week and you have to work through it by presenting your ideas and knowledge about different things in the text. Anything the group isn't sure about or needs further guidance with is presented next week. Our lectures, independent learning and textbooks are all what aids us to answer the learning objectives for the next session. Then we always have an engaging feedback session where our knowledge is tested and people feedback what they researched over the weekend. This motivates you to do the work and to be more confident in group settings which is important for when you start placement.

Reason 2 – Early clinical contact. From the third week in first year, you are to be on placement every week, alternating between the GP and the hospital. This early clinical exposure is vital in developing a students' confidence levels when speaking to the patient, when getting familiar with the settings of the hospital and GP, and in visualising diseases. It's easy to read about a condition from a textbook but taking a patient history is much more exciting and engaging because you interact with a patient who must live with the condition, who can tell you a lot more than a textbook ever will. Additionally, you practise your history-taking skills from a very early stage and that means you can only improve from there. It's also useful because you can ask patients social and lifestyle questions to ask how they cope with the condition. This offers you a first-hand insight into their life; something that will improve your empathy and interpersonal skills when you are eventually a doctor.

Reason 3 – The city and placement sites. Hull is a bustling student city, especially around where the university is situated. There are many independent cafes and restaurants just 10-30 minutes' walk away from campus which include halal, vegan and vegetarian options too. There are activities to do in the city including trampolining, going to the cinema, going bowling, paintballing and a few more. There are also several lively shopping centres with many high street stores, one of which has its own food court. The nightlife is also lively with the on-campus bar Sanc, and club, Asylum. In addition, there are many nightclubs which are bustling on different nights of the week so you won't be bored if you cannot go out on one day! The placement sites offered are Hull, York, Grimsby, Scunthorpe, Scarborough and Northallerton. All of these places have free accommodation unless you are at your base site (either Hull or York) and the variety in the areas means you will experience clinical life in city areas and rural areas too, so you will see a wide variety of conditions and demographics.
What makes Newcastle unique to other medical schools?
The early clinical exposure (from the third week in first year, as I mentioned above) is something unique to the Hull-York Medical School. This is a great opportunity to start developing your clinical skills and communication skills from an early start in the medical school, and something that not a lot of other medical schools offer until later in the course. It instils confidence in first year medical students and allows them to visualise the condition they are studying in more detail. They are able to ask the patient more questions which will solidify their learning.
Insider Guide: Hull York Medicine Interview Day
How does the Hull York Medical School Interview day work?
The Hull York Medical School Interview is a long and rigorous process, with multiple parts. It has not yet been released whether or not the interview will be held virtually. However, typically HYMS stations last about 5 minutes with preceding reading time allocated to all candidates.
What do you have to wear for the Hull York Medicine Interview?
The dress code is formal, as with any interview. This must be strictly adhered to regardless of the mode of interview.
How do you receive information for each Hull York MMI station?
Prior to each staton, applicants have 1 minute to read contextual information for the station.
What are the Hull York MMI examiners like?
The examiners are very friendly throughout all parts of the interview. They typically give verbal and non-verbal cues and to help guide applicants through the interview.
Does the Hull York Medical School interviewers ask a lot of follow up questions?
There are some follow up questions, which are mostly specific to the initial answer given by the students to the main stem of the question. They typically also have a few generic follow up questions, particularly for non-personal stations such as ethics.
How long is the actual Hull York MMI?
The interview process was around an hour and a half long.
Logistical advice for the day?
If the interview is held in-person, plan your travels preemptively. If you're coming in overnight, staying anywhere in the city should allow you to get there with ease by the bus.
For virtual interviews, ensure you have a quiet and bright space with a strong wifi connection and working camera and microphone. Ensure you will not be disturbed during your interview and avoid sitting in front of a bright light or window to prevent glare. Ideally, set up your interview space prior to the day and practice in that setting a few times to ensure comfort and logistical ease. If the university allows, it is helpful to have water to sip on throughout the interview.
How long does it take you to hear back after your Hull York Medicine interview?
Typically a few weeks but delays are to be expected due to the logistical issues caused by the pandemic.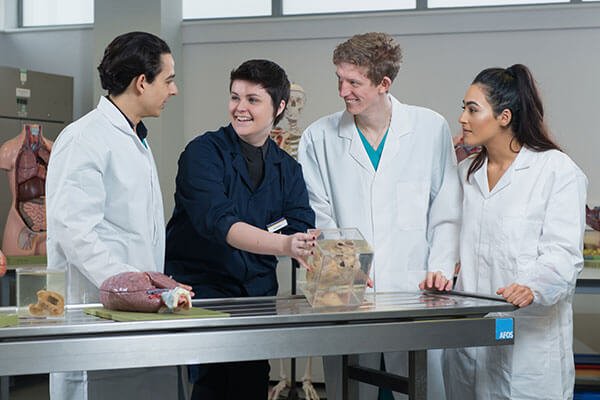 Top Tips for Hull York Medicine Interview
1. Practise role play with family and friends before the interview, so that you get used to communicating with different kinds of people. This is a skill you may not be used to, so trying it out as much as possible will help you feel more comfortable on the day of your interview.
2. Do wider reading around the NHS and current affairs surrounding healthcare because questions related to this are likely to come up. You need to have daily good knowledge and be able to formulate your own opinions.
Here are some answer examples for these types of questions: NHS Hot Topics
3. Understand your motivation for Medicine because the examiner will be looking out for what sets you apart from everybody else. Just be completely honest and try not to sound like a robot, but make sure you have a few ideas in your head so that you don't get put on the spot!
To help you out, have a look at this blog post: Model Answers: Motivation
4. Look into PBL and how it works, and be confident when working in a team.
Make sure you know what will be expected of you in a PBL-style group session and be prepared to actively engage in group discussions with new people. Try to bounce off others ideas in your PBL group, this will make you stand out and show that you're engaging in the discussion. Also don't be afraid to ask what your team members think, this will show that you value your team members opinion and will highlight that you have good leadership skills as well as team work skills.
5. Approach current HYMS students via LinkedIn or other professional social platforms. Gain key insight into the course and school to further personalise your interview answers. Mentioning that you've taken the initiative to engage with the current student population will also show a great degree of independent planning on your part.
6. Knowing why you want to study at HYMS. Have a good knowledge of the curriculum and why you want to study at HYMS as they will ask you this. A good answer will encompass your own opinions and how it matches to the curriculum and what is appealing about it compared to other medical schools. You can do this by going onto the HYMS website and researching how the medical school teaches, visiting HYMS on the open days, asking anyone you know of who already goes to the school and knowing what sets it apart from other medical schools.
7. Make sure you speak during the group work scenario. This will be a light introduction as to how PBL will be like and the examiners will be looking for students who are willing to contribute and add their ideas even if they are not sure- after all this is how we learn! It doesn't have to be correct, it can even be a question but participation is key. However, also demonstrate your listening skills as they will be testing how well you work in a group. This station is worth 15 points so for you to volunteer to read, to pick out the key points, to introduce ideas, to draw off other people's ideas are all good ways to show the examiner that you are actively taking part in the discussion. If you feel anxious or shy, try volunteering to read, or to agree or disagree with someone's point. It doesn't matter if you are right or wrong, as long as you participate and have a logical thought process, it will work in your favour.
8. Know why you want to be a doctor. Have an honest answer prepared for 'the why you want to be a doctor' station. Don't try to exaggerate or tell them what you 'think' they want to hear because they have heard many students tell them why they want to be doctors, so an honest answer will never go wrong. This answer is quite personal, so make sure you know what you are going to say. Identify your own strengths and relate these to the field of medicine. When you answer this question, take the opportunity to acknowledge that you understand the challenges of being a doctor. Interviewers are looking for strong students who are prepared for what lies ahead. Also, think about your motivations and why you would rather be a doctor than a nurse for example.
For interview tips from current students, click here: Interview Tips
Covid – 2021 Changes for the Hull York Medicine Interview
Is the Hull York Medical School Interview different this year?
The interview this year will be virtual, with a virtual introduction talk prior to your interview so that you know what to expect. However, updates have not been formally released yet. For some guidance on how to tackle online interviews, check out this useful document from the Medical Schools Council
Where can I find more information about the changes?
Full details of the 2021 entry interviews can be found here: 2021 Entry Interviews
Download Free Medicine Interview Notes