>
X
Loading...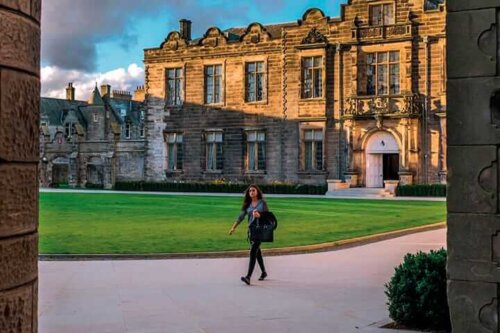 St Andrews Medicine Interview Questions
Note: This interview Q&A is based on pre-COVID in-person interviews (from 2019 and before). All university interviews changed in 2020-2021 to an online format due to the COVID-19 pandemic. This article has been updated in November 2021 with the latest information, and we will continue to regularly update it!
In 2020-21, the University of St Andrews interviewed 463 out of 1028 applicants, ultimately making 400 offers. This means that only 1 in 2.2 applicants were invited to interview after which roughly 86% received offers.
The University of St Andrews uses MMI style interviews to assess candidates. Due to the Covid-19 pandemic, for 2021 entry the interviews will be carried out online via Microsoft Teams. In this guide we provide an expert insight into past St Andrews MMI stations, the St Andrews interview day and tips for converting your interview into an offer!
St Andrews Medicine Interview in a Nutshell
What is the St Andrews interview style?
The University of St Andrews MMI typically has 6 stations, each 6 minutes in length. Due to Covid-19, the St Andrews medicine interviews will continue to be virtual, delivered via Microsoft Teams.
What are the St Andrews Medicine interview dates?
Invitations to attend an interview will be emailed to applicants throughout the period of November up to March. Interviews usually take place on dates in November and early December and then in the following January, February and early March.
What are the common topics covered at the St Andrews Medicine Interview?
St. Andrews aims to assess the following key qualities in their medicine course hopefuls;
Personal qualities such as empathy, listening skills etc
A well-informed understanding of the realities and challenges of a medical career
Commitment to medicine through work experience
Experience of working with ill or disabled people
Commitment to academic study and intellectual perseverance
How many students were invited to interview at St. Andrews in 2020-21?
In 2020-21, the University of St Andrews interviewed 463 out of 1028 applicants, ultimately making 400 offers. This means that only 1 in 2.2 applicants were invited to interview.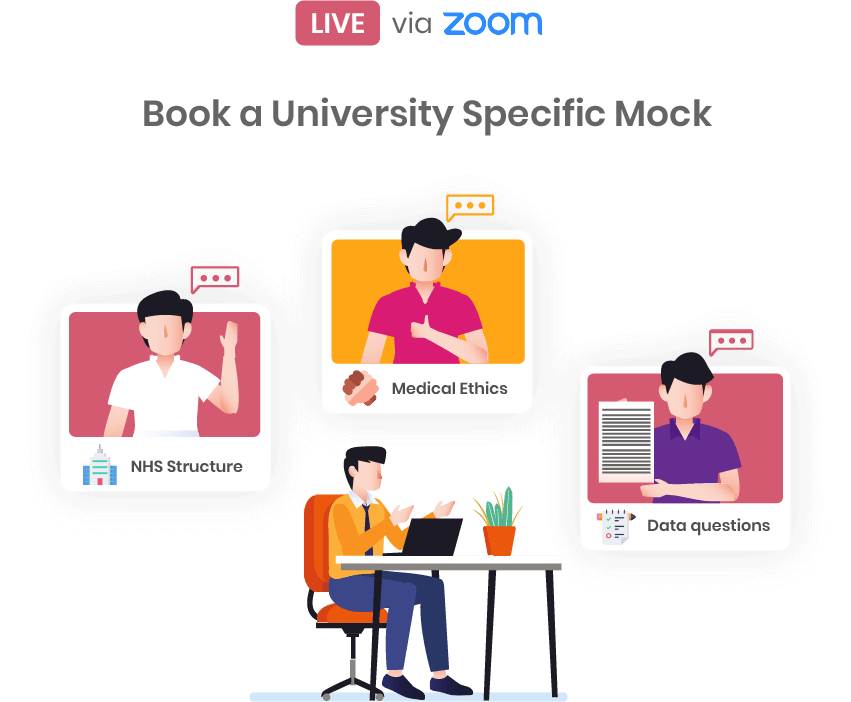 List of Recent St Andrews Medicine Interview topics
Theme
St Andrew´s Example Questions
Ethical Scenario
Unbiased ethical debates
Funding and healthcare expenditure
Universal Healthcare – pros and cons
Work Experience
General work experience questions
Communication & Role-Play
Helping an individual complete a given task
Encouraging a patient
Calming down anxious or irritable patients
Problem Solving Station
Completing puzzles
Following difficult instructions
Motivation for Medicine
Reasons for wanting to pursue Medicine
Understanding and dedication to the St. Andrews course
Preference of partner schools To find out more about the unique degree structure and partner medical schools check out their Course Website
Advantages and disadvantages of a career in medicine
Analytical Station
Interpreting data sets
If you would like to practice for the St Andrews Medicine Interview, have a go at the following questions and check out our video on approaching data interpretation stations here
When should problems in a healthcare setting be reported to a higher authority?
Why is confidentiality important? (You can also check out our interview video on confidentiality here)
What are the advantages and disadvantages of the new opt-out system for organ donation in the UK?
Has the Coronavirus pandemic affected your motivation for studying medicine?
How would you explain how to tie shoelaces to someone with learning difficulties?
A St Andrews Medical Student's Perspective
Name 3 Reasons why you picked St Andrews
Reason 1 – One of the main reasons I wanted to study at St Andrews was that I was able to attend two separate universities and I wouldn't be confined to just one town/city for 6 years. It allowed me to build self-confidence in a very supportive, structured environment before attending a much larger medical school.

Reason 2 – St Andrews has traditional learning which suits my studying style. The way they delivered the teaching also really appealed to me, they focus on systems-based learning and each year you build on what you have learnt before, so you are constantly encouraged to re-visit previously taught material. Despite being traditional they introduce you to the clinical environment in the first week and are always giving clinical context for what we are learning.

Reason 3 – It is a beautiful seaside town and had a great atmosphere when I went to visit, everyone was incredibly friendly and welcoming which hugely appealed to me. The student support offered by the central university and the medical school was really good and I always felt as if I could ask for help if I needed it. As it is a relatively small medical school all the years are very well integrated which is perfect for giving you advice as well as being a guide to the university.
What makes St Andrews unique to other medical schools?
Everyone takes a huge sense of pride in the University and the town and it is an incredibly inclusive, friendly and supportive school. They offer traditional learning whilst still preparing you for clinical practice, including weekly clinical skills sessions and frequent placements from year 1. The lecturers are all specialists in their field and excellent at teaching. Anatomy teaching has a really good student to cadaver ratio and you normally have one teacher between 10/12 students unlike other medical schools. The University as a whole is really inclusive and offers lots of extracurricular activities whether its sports, singing or social societies. There are also lots of whole university events such as Opening Ball, Raisin and May Dip which almost everyone of all years participates in.
Insider Guide: St Andrews Medicine Interview Day
How does the University of St Andrews Interview day work?
The St. Andrews Interview begins with logistical necessities, such as photo ID check. The interview itself is comprised of 6 stations, each lasting 6 minutes with some reading time given prior to each station. The interview will be held on Microsoft Teams for 2021-22 and links will be emailed out to invited applicants.
Logistical advice for the day?
For virtual interviews, ensure you have a quiet and bright space with a strong wifi connection and working camera and microphone. Ensure you will not be disturbed during your interview and avoid sitting in front of a bright light or window to prevent glare. Ideally, set up your interview space prior to the day and practice in that setting a few times to ensure comfort and logistical ease. If the university allows, it is helpful to have water to sip on throughout the interview.
While it may be held online, applicants should still maintain professional attitudes and dress formally, as they would for any other interview.
How do you receive information for each of the University of St Andrews MMI stations?
The brief for the station is typically given by the St Andrews interviewer. It is a valuable use of time to read the scenario twice and if you are unclear, ask for clarification – the interviewers are very polite and understanding.
What were the University of St Andrews MMI examiners like? Did they ask follow up questions during your St Andrews Medicine Interview?
There were a variety of examiners – the majority being friendly and encouraging. Some of the examiners were light-hearted, specifically in personal statement stations where there is more room for conversation. There were a few follow-up questions, depending on how the station was answered but there is little time for extra discussion. The circuit is relatively fast paced so try to be concise and to the point for the best result.
How long is the actual University of St Andrews Interview?
The interview shouldn't last more than an hour.
Is there much guidance with timing for the St Andrews Medicine Interview?
Not much guidance on timing is provided in the St Andrews interview but you can always ask for how much time you have left. If permitted, you may able to have a clock on the table during your virtual interview to monitor the time yourself but check with the admissions team before attempting this as you don't want to be written off for cheating!
What are the University of St Andrews MMI role play stations like?
The role play stations are typically laid back with friendly and accommodating actors. However, keep in mind that the actors will be fulfilling a brief and may be instructed to remain neutral or even cold/indifferent. This is hardly a testament to your performance and is usually just an indicator of difficult conversations that you are expected to tackle as a prospective medical student.
What are the data interpretation and ethical stations in the St Andrews interview like?
Data interpretation stations typically involve a set of data that requires a level of interpretation (usually a description) followed by questions related to said interpretation. This can often be time-sensitive as the data can be fairly extensive. Remember to remain calm, focus on the task at hand and have a fool-proof system to describe and/or analyze data sets.
Ethical stations can be set up in a debate format where the applicant is asked to argue one side of the ethical debate or applicants may be asked to assess both sides of a certain ethical argument and come to a conclusion. No prior medical or scientific knowledge is needed but a thorough understanding of medical ethics is required. Wider reading is also suggested. For example, knowing the impacts of euthanasia on public and mental health in chronic illness in countries where it is legal can help pad out arguments for or against it when discussing the topic in the context of UK laws.
How long did it take for you to hear back after the the University of St Andrews medicine interview?
Applicants will be notified of decisions via UCAS typically by mid-March. Some may hear back early but this is rare. Delays are to be expected due to the pandemic.
Top Tips for the University of St Andrews Medicine Interview
Prepare your virtual interview set-up early – It's important to be relaxed yet prepared on the day so set-up a quiet, brightly lit space to do your interview and practice in this setting to ensure maximum comfort. It will also help you survey for any faults in the set-up and tackle them preemptively. Practice by doing an online mock interview if possible (this is a key feature of our Interview Lessons, find out more here Interviews Lessons)
Read instructions carefully – be prepared to read the question / station slides again if you aren't sure, some may seem ambiguous but the stations aren't as intimidating as they may seem at first.
Use the transition and reading time to take deep breaths – even though the exam is fast-paced, take time to think before you speak, don't fall into the trap of rushing through a station.
Know the ins and outs of the St. Andrews program – a thorough grasp of the unique structure, including the various placement sites will help show you off as a more dedicated applicant.
Be professional – one of the key values of the GMC is ensuring the professionalism of doctors is of the highest standard.
St Andrews does MMI style interviews and they cover a range of attributes including why you want to do medicine and why St Andrews. Be yourself and be confident, they're not looking for someone who knows all the answers, they are looking for someone who is compassionate and empathetic. They want to understand why it is you want to do medicine and if you are prepared for what it entails, so an awareness that it's not plain sailing is really important.
Be prepared to discuss ethical issues and have a strategy for approaching ethical dilemmas. Talk through your thought process and relate it back to the four pillars of medical ethics. Don't worry if they question why you have said something, they are just trying to explore what has led you to your conclusion.
St Andrews use actors for role-play scenarios and they are looking for you to be able to effectively communicate with them. You don't need to know anything about medicine the scenarios will revolve around something trivial but remember to smile, be friendly, ask the patient questions and try not to talk at the patient but instead engage them in conversation