University of Warwick (GEM)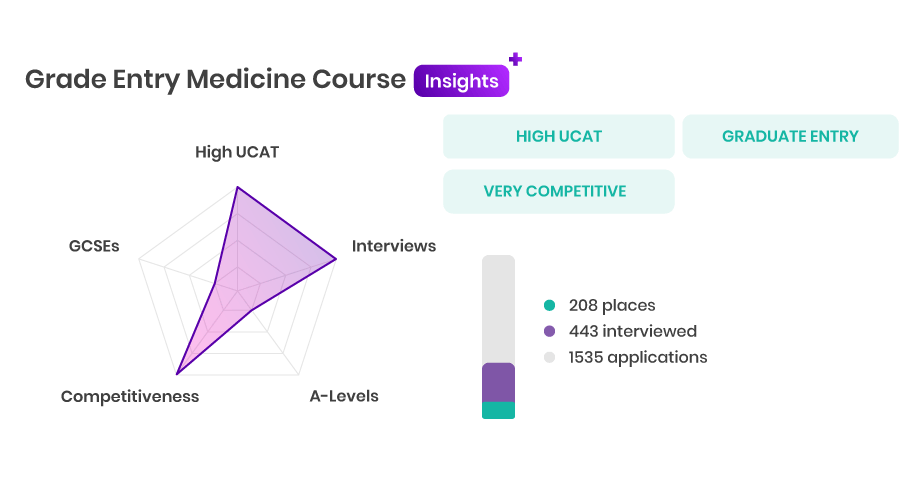 Overview:
The University of Warwick medical school is unique in that it only offers a graduate entry MBChB programme. The course offers fantastic opportunities for graduates wanting to transfer into a career in medicine, with a course entirely set for graduate applicants. The course integrates clinical teaching in a classroom setting with a focus on case-based learning with clinical exposure in a variety of clinical settings.
Entry requirements include scoring highly enough in the UCAT to secure yourself a place at a selection day, as well as having completed two weeks full-tein work experience (70hours) across a minimum of two placements in the last three years. This must include experience in healthcare environments. This is essential to securing yourself a place to study medicine at the University of Warwick.
Key Points
High UCAT
Graduate entry only
Very competitive
About the university
Compare
Key Information
Website
https://warwick.ac.uk/fac/sci/med/
Email
[email protected]
Phone number
+44 (0)24 7652 4585
Course Information
Teaching style
CBL
Case-based learning is the main teaching style for the medical degree at Warwick, with the support of lectures, small group sessions, experiential learning and clinical skills.
In year one you will learn largely through university-based teaching with the inclusion of integrated clinical exposure in various settings.
Course length
4 years
A101 Graduate Entry Medicine
BSC
No

Courses offered
1 course offered
Graduate Entry Medicine - 4 years - A101
Graduate entry
Yes
A101 - Graduate Entry Medicine
Foundation or access
No
University Life
Local area
Warwick

Social life
Interview
Interview style
MMI
6 MMI stations. The who interview session will last around 2 hours.
Interview dates
December
Dates for MMIs for the 19/20 application cycle are as follows:
- Tuesday 17th December 2019
- Wednesday 18th December 2019
- Thursday 19th December 2019
Please note that all invites to interview will be sent to shortlisted applicants at the same time.
Following interviews, offers will be made in February.

Interview topics
Competencies assessed are:

Team working
Insight
Resilience
Communication
Empathy
Probity
Respect and dignity

Admissions Tests
UCAT
Average scores of offer holders:
2018/19 = 2709
UCAT scores required to secure a place at a selection centre day varies year-on-year. In previous years the lowest UCAT scores for applicants interviewed were:
2019 = 2570
2018 = 2650
BMAT
N/A

GAMSAT
N/A

Academic Requirements
GSCE
N/A
A-level
N/A
Retake policy
N/A
Scottish highers
N/A
Scottish advanced
N/A
IB
N/A
Bachelor's Degree (Gradutes Only)
2:1 Honours degree
Subjects required: any discipline
Grades required: 2:1 honours degree.
2:2 degree classifications are accepted provided the candidate also holds either a Master's or Doctoral qualification to be considered for the MBChB programme.
Statistics
Applications in 19/20
1535
Total number of home applicants: 1535
Home applicants: 1408
Overseas applicants: 127
Interviews in 19/20
443
Total number of applicants interviewed: 443
Home applicants interviewed: 439
Overseas applicants interviewed: 14
Offers in 19/20
208
Total number of offers: 208
Home applicants with offer: 204
Overseas applicants with offer: <5
Success rate in 19/20
Application success rate:
Offers per applicant: 1 in 7.4
Interview success rate:
Offers per interview: 1 in 2.1
Compare