>
X
Loading...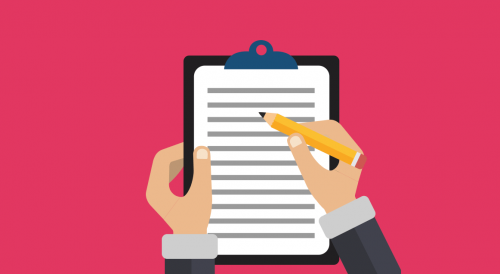 Applying for Medicine in 2021: A Timeline
So you've decided to apply to medical school – congratulations! The next one year may be, at times, stressful and scary but in the end, it'll all be worth it. One of the things that can make medical school applications nerve-wracking is the constant barrage of deadlines. In this post, we'll be covering all the important dates that you need to know for medical school admissions in 2021.
UCAS
UCAS is the official online portal for higher education applications in the UK. Registering on UCAS is the first step in preparing your application and sending it out to various universities. UCAS has yet to release their deadlines for 2022 entry. However, here are the important dates from the previous year, to use as a reference.

May 2020: Registration opens; you can start your application but you won't be able to submit it until a few months later
July-August 2020: IBDP and A-level results are released
15th October 2020: Medicine applications close
The most important thing to note, here, is the date by which medicine applications close. Therefore, by October, you should have collated all necessary documents and chosen your 4 medical schools and 1 safety choice.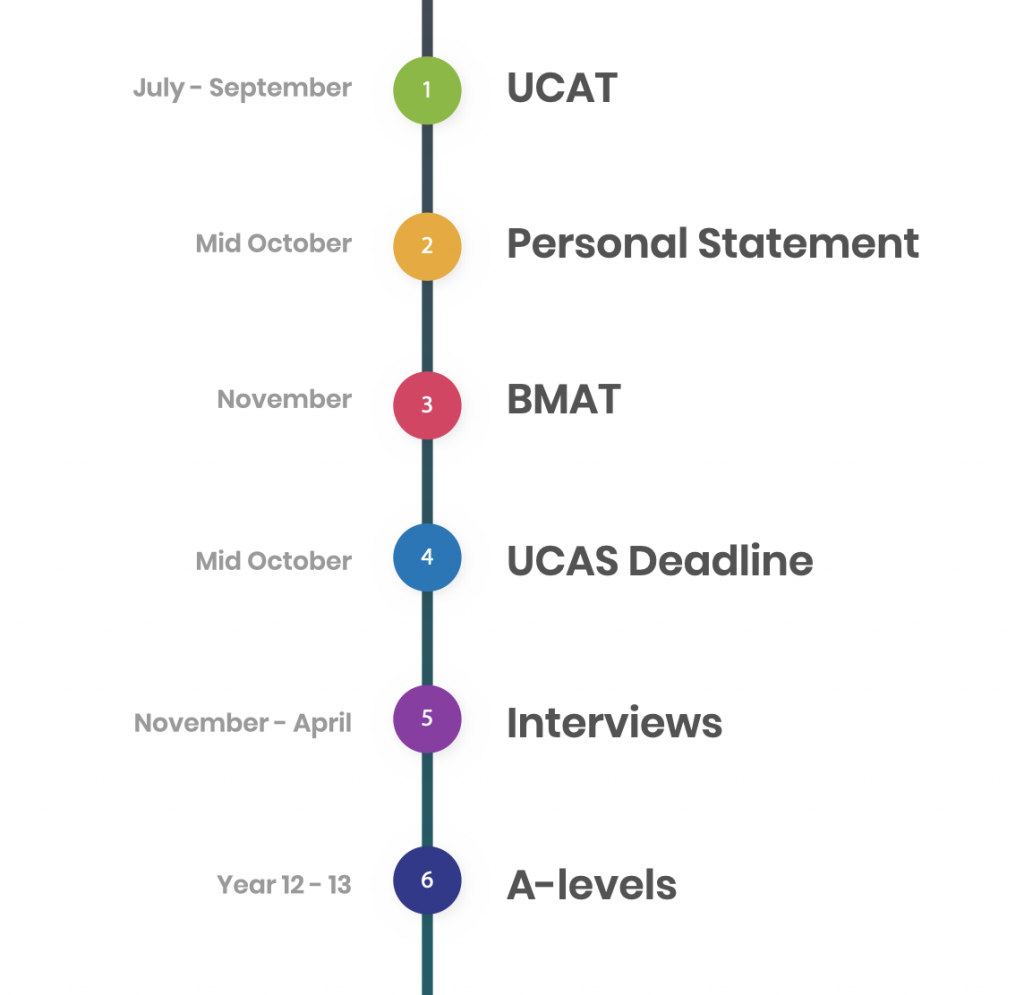 UCAT 2021
The UCAT is the more popular of the 2 undergraduate medicine entry examinations. You will need to register and book to sit this exam, either at a registered UCAT testing center or at home, depending on UCAT COVID guidelines at the time. Here are some of the most important dates to jot down in your calendars as you prepare to sit the UCAT in 2021.
2nd June 2021: UCAT Registration, UCAT bursary and access arrangement applications open
28th June 2021: UCAT Bookings open
26th July to 29th September 2021: UCAT Testing period
22nd September 2021: UCAT Registration and access arrangement applications close
15th October 2021: UCAS application deadline
November 2021: UCAT Results delivered to universities
As mentioned above, the UCAT testing period runs from July to September 2021 so keep this in mind when deciding when to begin intensive preparation. Please note that these dates have been published on the official UCAT website and are accurate as of March 2021. Please refer to the UCAT website for updated guidelines.

BMAT 2021
The BMAT is the other medical entrance exam used by a smaller handful of universities in the UK. The BMAT is held 3 times a year – February, September and October/November. UK medical schools typically do not accept February sittings. Additionally, Oxbridge may have a preference or pre-requisite for a specific exam date.
In 2021, the BMAT will only take place once – on 3rd November 2021
Once again, keep the BMAT exam dates in mind when deciding how to prepare for the exam and when intensive preparation may be more appropriate. You can find these on the Cambridge Assessment Testing Website.
MEDICINE INTERVIEW 2021
As discussed above, the nerve-wracking applications process ends by mid-October. Unfortunately, this is where the constant waiting typically begins. Before we discuss dates, it is so important to reiterate the importance of unsubscribing to unhealthy comparisons. Just because your friend hears back in a few weeks, doesn't make it any less likely that you will be too. Each university works on their own timeline to send out invitations and conduct interviews. Furthermore, international students tend to hear back later than local students.
As a general rule of thumb, medicine interview invites start going out between November and early December. They may continue to be sent out well into the new year. Once you receive an invite, you will have a choice of dates across the first few months of 2022 to attend your interview. This process may be delayed based on how the pandemic pans out over the remainder of the year.
TIPS FOR PREPARING
As you've probably guessed by now, the medical school application process is fairly long-winded and time intensive. Proactive preparation is key to ensuring a stress-free year ahead. Remember, you've still got school and other commitments to juggle alongside so be weary of how you manage your time. In many ways, applying to medical school is your first of many tests in time-management!
Start early with UCAT and BMAT
We strongly suggest preparing for the UCAT and/or BMAT as soon as possible. Keep in mind that you will need more time to prepare if you intend on sitting both exams. Start slow with practice questions, tutorials and other study materials. Within 8-12 weeks of your exam, focus on spending more time, perhaps daily, in preparation.
Keep track of UCAS key dates and deadlines
Alongside this, sort out a folder with all your necessary documentation for your application. Don't forget the boring basics, like financial or immigration evidence. Start researching medical schools by reading blog posts online and talking to medical students via Twitter and Instagram. We have a university comparison tool which you may find useful to compare universities. Many are more than happy to share their advice! However, hold off on firming any medical school choices until you've got your UCAT results back. These can heavily inform your decision to apply to certain schools that weigh the results heavily.
Use your summer for Personal Statement and UCAT
By the summer, you should start thinking about your personal statement. Often, starting is the hardest part. So remember to just put words down on paper – you can perfect them later. Ideally, you should be confident in your personal statement before October comes around.
Once again, preparation, organization and proactiveness is key! Take it slow and make plenty of check-lists to make sure you're not missing out on anything along the way.
Enjoy your final year of school!
Finally, remember to cherish your year in school. It won't be long before you're heading off to university, possibly away from friends and family. Whilst the application process is very important, remind yourself to take breaks and spend time with the people that you love. Prioritize yourself and your health above all else – medical school is waiting for you!