King's College London School of Medical Education MBBS Extended Medical Degree Programme A101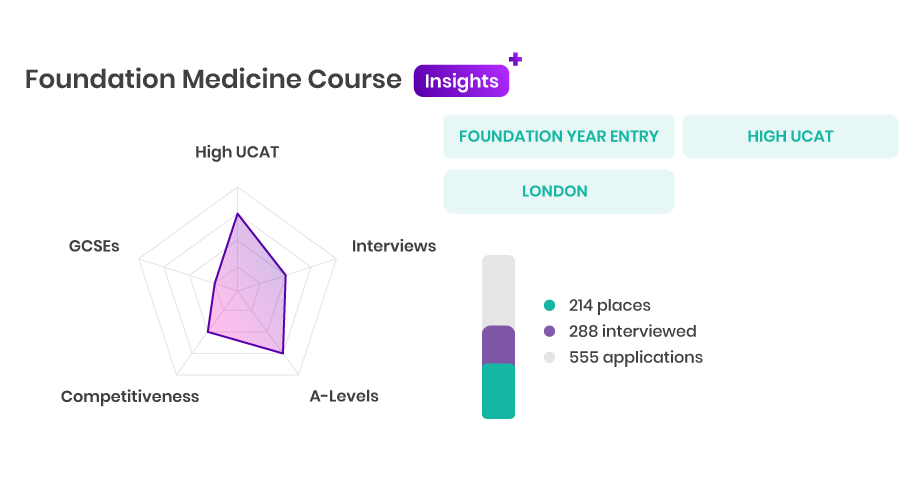 Overview
King's College London GKT School of Medical Education is made up of three hospital medical schools that were united in 1998 to become Guy's, King's and St Thomas' School of Medicine. With St Thomas' Teaching Hospital dating back as far as 1173, there is a great deal of history attached to studying medicine at King's. The medical school also boast being the largest healthcare training facility in Europe, as well as being ranked 17th in 2019 World University Rankings for clinical, pre-clinical and health subjects.
King's usually accept applicants with a high average UCAT score, making it a competitive medical school to apply to. It boasts a new curriculum, introduced 4 years ago, which is set to train the medical leaders of tomorrow. Aiming to nurture students to be critical scientific thinkers, champions for mental health, leaders in service quality improvements and equipped to transform healthcare on a local and global scale. Students also benefit from being taught by clinical leaders in their fields, with fantastic learning opportunities with placements at Evelina's Children's Hospital as well as one of the countries largest hospital trusts, Guy's and St Thomas'.
The university has a diverse student body, with a very active students union, as well as support offered from the medical students association (MSA) which as a medical student you will have access to. GKT has many of its own sports teams and societies that you can join, as well as the wider KCL network of sports teams, clubs and societies that are open for medical students to join.
Please note, this is only open to applicants from the EEA which includes the UK and has specific WP eligibility criteria.
Key Points
Foundation year course
High UCAT
London
About the university
Compare
Key Information
Website
https://www.kcl.ac.uk/lsm/education/meded/index
Email
[email protected]
Phone number
+44 (0) 20 7836 5454
Course Information
Teaching style
Integrated
1 year of pre-clinical with the following years being integrated
Course length
4-7 years depending on course
Undergraduate course - 6 years (with opt-out iBSc)
Access Undergraduate course (EMDP) - 7 years (with opt-out iBSc)
Graduate course - 4 years
BSC
Yes - this is an opt-out iBSc
There are 18 different intercalating degree courses offered to medical students, the full list available here. Along with the possible option of studying an intercalated BSc at another institution.
Courses offered
4 medical courses offered
Undergraduate (standard entry) A100 - 6 years
Undergraduate (Access to medicine) A101 - 7 years
Graduate A102 - 4 years
Graduate Maxfax (MFDS students only) A104 - 4 years
Graduate entry
Yes
Undergraduate course entry - minimum 2.1 required for entry onto undergraduate course as a graduate.
Graduate course entry - minimum 2.1 required for entry.
Maxfax Entry Program - MFDS graduate students only
Foundation or access
Yes
Extended Medical Degree Program (EMDP) offered. Pre-clinical year of standard undergraduate course split over two consecutive years.
University Life
Local area
London
Teaching is based at Guy's campus at London Bridge, with trust sites being Guy's and St. Thomas', King's College Hospital, and Lewisham
Social life
Coming under the wider King's College London University, the students union is very active with many sports teams, clubs and societies available to students. As well as GKT specific sports teams and societies.
London is a multicultural city with a vast population.
Interview
Interview style
MMI
6 stations, each around 5 minutes long with a short break in between each station (usually 30 seconds).
Interview dates
December - March
Interview dates usually run from early December to the first week of March based on previous years, with a break in the interview season over the festive period. Invites to interview are sent out on a rolling basis from early November all the way to the end of February.
Interview topics

Interpretation of graphical data on a common medical issue, such as cancer, diabetes, and heart disease
Describe a picture, and why is this an important skill in medicine?
Resilience question
Common healthcare topic - something from the news or topics such as world health

Admissions Tests
UCAT
King's do not have a threshold UCAT score that candidates are required to reach to be invited to interview. They use the average overall UCAT score across all four subtests, as opposed to individual subtest scores, as well as the Situational Judgement Test score to help shortlist candidates for interview.
BMAT
N/A

GAMSAT
N/A

Academic Requirements
GSCE
GCSE's not used beyond minimum requirements
Grades required: grade 6/B in English Language and Mathematics
Other than these two required subjects and their minimum achieved grades GCSE's are not considered in your application for medicine.
A-level
ABB is common
Chemistry + Biology needed
Subjects required: Chemistry and Biology
Grades required: ABB
Critical Thinking, Thinking Skills and Global Perspectives are subjects not accepted by King's as one of your A-levels. However, if offered the grade achieved may be taken into account when considering whether or not to accept a candidate who as just fallen short of the conditions of their offer. Grades predicted or achieved, along with your UCAT, personal statement and reference will be considered holistically as an overall application assessment.
Retake policy
Yes
King's will consider applications from those resitting one or more of their school qualifications. However, candidates who have achieved or are predicted to achieve the typical entry requirements in their first sitting may be considered to have a more competitive application.
It is recommended that applicants who have or are resitting, especially if multiple resits have been taken, ask their referees to include further information to provide a context for the student's circumstances for resitting these examinations.
Scottish highers
ABB
Subjects required: Chemistry and Biology
Grades required: ABB - grades must be achieved in one sitting.
Please note that if English and Mathematics are not offered at Higher level, they are required at N5/ Standard credit grade 1 or 2/ Intermediate 2, with grade B or higher.
Scottish advanced
AB
Subjects required: Chemistry and/or Biology
Grades required: AB - if one of the above is not offered at Advanced Higher it must be offered as grade A at Highers.
IB
35 points
Subjects required: 3 Higher level subjects including Chemistry and Biology
Grades required: Pass IB Diploma with a total of at least 35 points, with 3 Higher level subjects at 655.
Bachelor's Degree (Gradutes Only)
Statistics
Applications in 19/20
555
Total number of applicants: 555
Interviews in 19/20
288
Total number of applicants interviewed: 288
Offers in 19/20
214
Total number of offers: 214
Success rate in 19/20
Application success rate:
Offers per applicant: 1 in 2.6
Interview success rate:
Offers per interview: 1 in 1.3
Compare