Liverpool Institute of Veterinary Science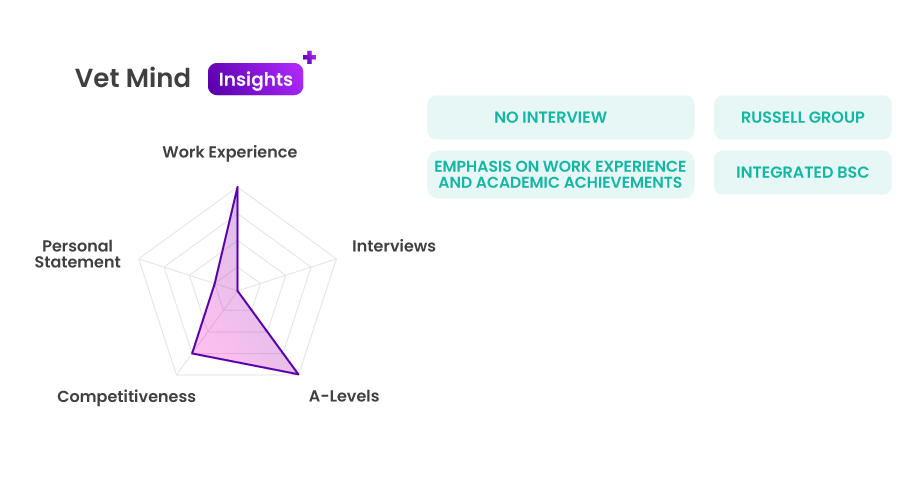 Overview
The University of Liverpool's first Veterinary School was the first of the UK Veterinary Schools to be part of a university, and the first to offer a degree in veterinary science. Building on this outstanding tradition, now the Institute of Veterinary Sciences, the Institute today has a continuing commitment to innovative veterinary education and research, giving students a fantastic start to their veterinary careers. Like many veterinary schools, Liverpool operates on a dual campus basis. One campus is located in the heart of Liverpool and this is where you will do the majority of your science and theory based learning for the first 3 years. The other campus (Leahurst), is the location of your year 4 and 5 studies and also the home of it's world renowned equine centre.
Key points
Leading equine centre
Research-led teaching
Prestigious university
About the university
Compare
Key Information
Website
https://www.liverpool.ac.uk/veterinary-science/
Email
[email protected]
Phone number
+44 (0)151 794 4797
Course Information
Teaching style
Traditional and research-led
Whilst it follows the traditional 3 years non-clinical 2 years clinical route, the university of Liverpool will teach your practical skills from day one by taking advantage of their facilities to develop handling and basic clinical skills such as suturing.
Teaching proper communication is of great importance to the institute therefore you will be putting this into practice with professional actors who act as your clients in simulated veterinary consultations. This is all built upon further in the second year and third year however the structure of teaching of year 3 integrates a research project, thus developing your research skills.
The variety of facilities at the veterinary campus (Leahurst) allows you to develop a healthy balance of skills in different veterinary areas. This is where you will learn during your fourth and fifth years and after the final exams you have the chance to choose an elective subject to study in greater depth allowing you to practise as a vet whilst benefiting from the support/expertise of the staff at the site.
Course length
5 years
BSC
Yes
Students can choose to spend an additional year carrying out intercalated studies with a large range of options.
Courses offered
2 courses offered
Foundation to Health and Veterinary Studies
Veterinary Science BVSc (including the option to intercalate).
Graduate entry
Yes
Foundation or access
Yes The University of Liverpool's Veterinary School is involved in a widening participation scheme which allows for contextual offers based on individual circumstances, a foundation course as well as pre-approved 'access to higher education' diplomas. Contact the university for more information or to see if you are eligible.
University Life
Local area
Liverpool
The main campus, where you will spend your pre-clinical years, is located in the heart of the city of Liverpool - an incredibly vibrant, friendly and historical city. The Leahurst campus, located in the countryside surrounding Liverpool will be the location of your clinical years and consists of all things veterinary from its teaching animal hospitals to its leading equine centre. Not too far from each campus is Chester zoo which has strong ties with the university.
Social life
Liverpool is very well known for its entertaining night-life and since you'll be based in the heart of the city, you'll be in the centre of the fun. There's also a number of interesting scenic spots and historical locations which may interest you for a day out such as the Royal Albert Dock where you can find places like the Liverpool Tate art gallery and the Slavery Museum. You can also expect interesting excursions organised by the University itself which will take you all over the country.
Interview
Interview style
MMI

Interview dates
November – December
Interview topics

Small Animal.
Large Animal.
Equine.

Academic Requirements
GSCE
Subjects Required: Mathematics, English and Physics (at grade A/B or above).
Grades Required: minimum of seven GCSEs at grades AAABBBB/7776666 or above, including Mathematics, English and Physics (either as a separate subject or as Dual Award Science) are required.
A-level
Subjects Required: Biology/Human Biology, a choice between Chemistry, Physics, Mathematics, Geography, Geology or Psychology and a third subject of your choosing. If the second subject is not Chemistry then a B is required in AS Level Chemistry.
Grades Required:AAA
Retake policy
Yes
Applications are considered from applicants who are retaking their A-Levels.
Scottish highers
Subjects Required: Biology and Chemistry.
Grades Required: AAAAB
Scottish advanced
Subjects Required: Biology and Chemistry.
Grades Required:BB
IB
36 points
Subjects Required: Chemistry, Biology and any other subject at Higher Level.
Grades Required:36 with 6 in HL Chemistry and HL Biology and 6 at HL in any other subject.
Bachelor's Degree (Gradutes Only)
Grades Required: Graduates are required to have an upper second class (2:1) degree, and A levels in Biology and Chemistry (grades BB for BSc graduates; AA for BA graduates).
Irish Leaving Certificate
Subjects Required:Biology, Chemistry and four further subjects to include Physics or Maths.
Grades Required: Biology and Chemistry at H1. The remaining 4 subjects at H1 H1 H2 H2.
Access to Higher Education Diploma
N/A
International/EU
For EU: https://www.liverpool.ac.uk/study/undergraduate/applying/entry-requirements-and-qualifications/eu-qualifications/
For non-EU: https://www.liverpool.ac.uk/study/international/countries/index.html
Birkbeck University Certificate of Higher Education in Subjects Allied to Medicine
N/A
Kite-marked level 3 Access course
Subjects Required: Biology and Chemistry.
Grades Required:Distinction in Biology and Chemistry and distinction overall.
Advanced Welsh Baccalaureate Skills Challenge Certificate
The Welsh Baccalaureate at grade A will be accepted as a third A Level subject.
BTEC
N/A
Cambridge Pre-U
N/A
Admission Assessment
N/A
Work Experience
Minimum 5 weeks:
at least 2 weeks in one or more veterinary practices.
at least 2 weeks animal husbandry placements (1 week of animal husbandry should involve working with equine of farm animals).
Statistics
Number of Places
165
Number of UK/EU applicants per place
8
Number of non-UK/non-EU applicants per place
0
Liverpool regularly admits non-UK/EU students and welcomes their applications. No non-UK/EU students were admitted in 2019.