>
X
Loading...
GAMSAT UK: Registration, Dates & Booking
If you're thinking about applying for graduate-entry medicine (GEM) in the UK, you might be thinking about taking the GAMSAT to maximise the number of medical schools you can apply to. Carry on reading to find GAMSAT 2021 test dates and everything you need to know about booking the GAMSAT UK.
Key GAMSAT Test Dates 2021
For September 2021 GAMSAT testing period you are able to register from July and will take the test in September. They key dates are for this year's sitting are below:
Testing window: 3-16 September 2021
Registration opens: mid-May 2021
Registration closes: 20 July 2021 at 1pm BST (GMT+1)
Late registration closes: 30 July 2021 at 1pm BST (GMT+1)
Results released: mid-November 2021
How do I register for the GAMSAT?
For September 2021 GAMSAT Test Dates, registration will open in mid-May 2021.
The GAMSAT exam is administered by ACER. In order to sign up to take the GAMSAT exam you'll need to register on the ACER website. This is separate to your medical school applications which you will make through UCAS before the October 15 deadline.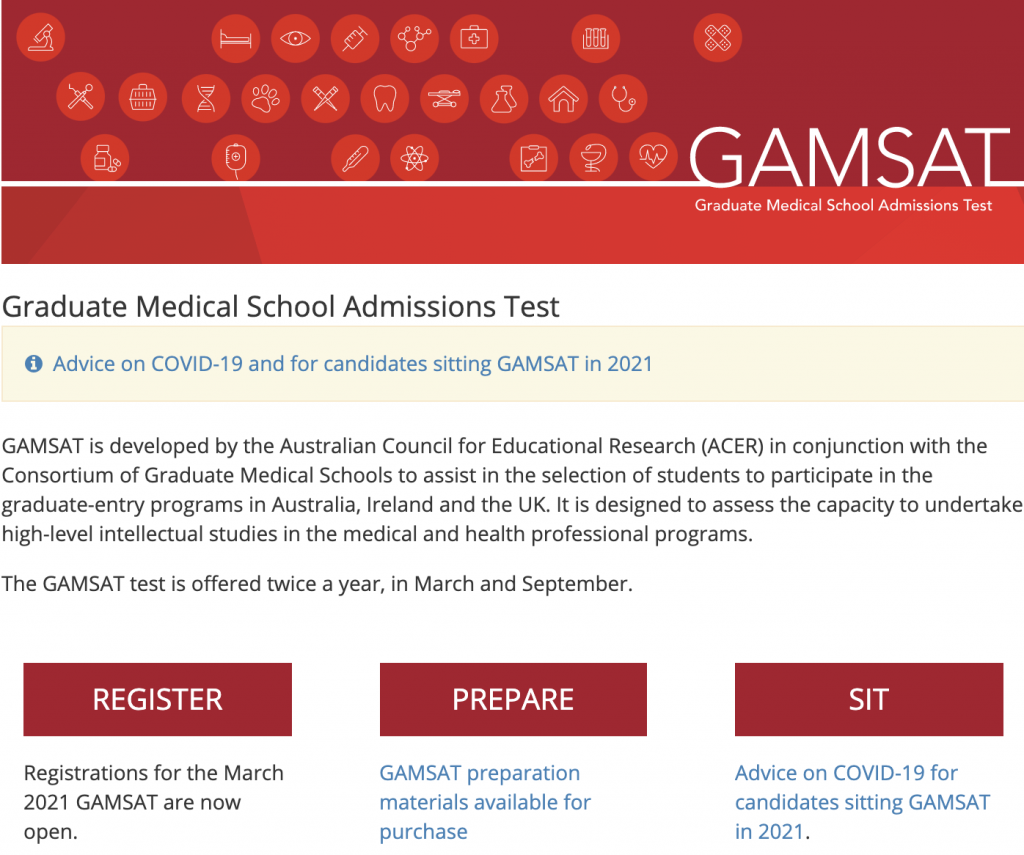 Once you've created an account you will see a list of ACER examinations. During the registration period you will see an option to register yourself to take the exam. This will appear next to the GAMSAT icon within the ACER portal. Please make sure you meet the eligibility criteria before attempting to submit your registration.
Once all the spaces at a particular location are full, this option will disappear from the drop-down list of centres available for you to pick from. If you require a particular location, it's a good idea to make sure you register early or you may find yourself having to travel quite far to find a space.
GAMSAT Eligibility Criteria:
In order to sit the GAMSAT UK, you must:
have completed an undergraduate honours degree, or
be in the final year of an undergraduate degree, or
be in the penultimate (second-to-last) year of an undergraduate degree, or
for Exeter and Plymouth, have an appropriate level of intellectual maturity and subject knowledge to meet the demands of the test
Can I change my registration details?
It's really important to keep your details up-to-date and accurate on your ACER account. Your results will be delivered by email and this is also where the test centre location will be shared with you.
You can update your details in your online account by clicking 'Edit' next to 'Registration Details'.
When is the deadline for GAMSAT 2021?
The GAMSAT deadline for registering for the UK September 2021 sitting is 20 July 2021 at 1pm BST. If you miss this deadline, you can still register until the 30 July but you will need to pay an additional £60 late registration fee.
It's a good idea to register as soon as possible as there are only a limited number of spots at each testing centre. If you leave it too late you could find yourself having to travel across the country to find a location with space for you to take the exam.
What is the cost of the GAMSAT?
The GAMSAT UK costs £283. If you miss the standard GAMSAT deadline, a late registration fee of £60 will also be charged.
GAMSAT Registration FAQs
Can I reschedule my GAMSAT exam?
You can defer your exam to a later sitting. For example if you decide you are not ready for the March 2021 sitting, you can change your registration for September 2021 for March 2022. There are strict deadlines for deferral requests so please check the official ACER website for the most up-to-date information.
Can I cancel my GAMSAT registration?
If you change your mind about sitting the GAMSAT or you're no longer able to attend the exam, you can either defer your registration to the next sitting or request a refund. You will still be charged an administration fee. See the GAMSAT website for more info.
Can I change my test centre?
Yes, it is possible to change your GAMSAT test centre after you've registered! You can change your chosen location until the late registration deadline (30 July 2021). This is subject to there being any remaining space at your preferred test centre, so if you require a particular location it is best to ensure you select this centre first and register as soon as possible to avoid any disappointment.
If I have a disability, can I have special considerations?
If you have any specific needs that may interfere with how you take the test, you can apply for reasonable adjustments to be made. You need to apply as soon as possible after you've registered. These requests are assessed on a case-by-case basis to ensure your needs are met.
You must submit this request before the late registration deadline (30 July 2021). To apply, fill in the online form after completing GAMSAT registration and give details about your condition. You'll be asked to attach supporting documentation from a registered health practitioner. This needs to be less than one year old for health-needs or less than three years old for learning disabilities. For a learning disability, you can still submit an old report as long as you have a recent letter from a psychologist stating that it is still valid.
Unfortunately no special circumstances can be given to test scores once you have sat the test. Therefore if you have a condition that you believe will impact you ability to take the exam, it is really important to apply for adjustments before exam day.